Hayv Kahraman
Biography
Hayv Kahraman's practice addresses the marginal spaces of diasporic life, migrant consciousness and concepts of gender through her personal history as an Iraqi émigré to Europe and ultimately to the US. She creates a unique visual language that reflects her biography as an immigrant, one that lacks fixedness while embracing multiplicity. 
Female figures repeatedly occupy Kahraman's canvases. Said to be an extension of her own body, the women depicted are informed by the artist's autobiographical context, while rendered with Renaissance sensibilities. These women, however, are not meant to exist as self-portraits, rather as an embodiment of the collective immigrant experience. In an interview with Glass Magazine, Kahraman explains that the figure is "an expression of whom I had become as an assimilated woman. I'm now working to give her agency and a voice, and, as I obsessively repaint her again and again, she becomes part of a collective. I am concerned with this multitude, not the self. This is not only my story. It can be the story of more than five million people within the Iraqi diaspora or any diaspora."[1] Kahraman uses her figures to explore and express the duality of "otherness," adapting to new cultures while remembering one's origin. 
The struggle of displacement is further visualized through the disfigurement and violation that often afflicts her subjects. In a New York Times article about her exhibition Extimacy, she said, "having these women violently detaching their limbs, for me, is reminiscent of the psyche of a refugee, and the sense of detachment you have from your land that you've had to leave behind."[2]
While questions of diaspora and gender consistently catalyze Kahraman's work, she continues to explore and shift her artistic style and techniques. Fascinated by geometry and systems of symmetry, her paintings often incorporate abstract patterns. Most recently, Kahraman finds herself interested in manipulating the canvas. "In previous works, I experimented with altering the linen in different ways and that has led me to understand the material on a deeper level. I am detaching it, altering it and manipulating it in a way where I am creating something similar to a weave".[1] She attributes this newfound weaving technique to a traditional Iraqi handheld fan called the "Mahaffa," a personal item she recalls from childhood as one of the few that fled Baghdad with her family.
Raised in Baghdad, Hayv Kahraman fled the first gulf war with her family to Sweden at age eleven and started painting by age twelve. As a refugee, her art became a mode through which she could embrace her difference. In 2005, she studied graphic design in Italy at the Accademia di arte e design di Firenze, and later in Sweden, before making her way to the United States. 
Kahraman currently lives and works in Los Angeles. She has had numerous solo exhibitions, including Hayv Kahraman: Acts of Reparation, Contemporary Art Museum, St. Louis; Havy Kahraman, Joslyn Art Museum, Omaha; A Change of Place: Four Solo Exhibitions, The School, Kinderhook; Extimacy, Third Line Gallery, Dubai. Her work is also in exhibitions such as The Art Show: Art of the New Millennium in the Taguchi Art Collection, The Museum of Modern Art, Gunma; Making Her Mark, Mattatuck Museum, Waterbury; No Man's Land: Women Artists from the Rubell Family Collection, Miami which traveled to the National Museum of Women Artists, Washington, DC; Us Is Them, The Pizzuti Collection, Columbus; Piece by Piece: Building a Collection, Kemper Museum of Contemporary Art, Kansas City; Echoes: Islamic Art and Contemporary Artists, Nelson-Atkins Museum, Kansas City; The Jameel Prize 2011 – Shortlist Exhibition, Victoria and Albert Museum, London which traveled to venues including the Museum of Fine Arts, Houston and the Cantor Center, Stanford University; Fertile Crescent, Paul Robeson Center for the Arts, Princeton. Her work is included in several public collections including Museum of Contemporary Art, San Diego, The North Carolina Museum of Art, The Rubell Family Collection, The Barjeel Art Foundation in Sharjah and the MATHAF Museum of Modern Art in Doha.
Solo exhibitions at Jack Shainman Gallery include Re-weaving Migrant Inscriptions (2017), How Iraqi Are You (2015), and Let the Guest be the Master (2013).
[1] Biswas, Allison. "Ladies in Waiting: Glass meets seminal Iraqi artist Hayv Kahraman." Glass Magazine. Issue 28. Winter 2016: pp. 122-127, illustrated.
[2] Siegal, Nina. "Dark Memories of War Illuminate an Artist's Work." The New York Times. January 11, 2013.
Exhibitions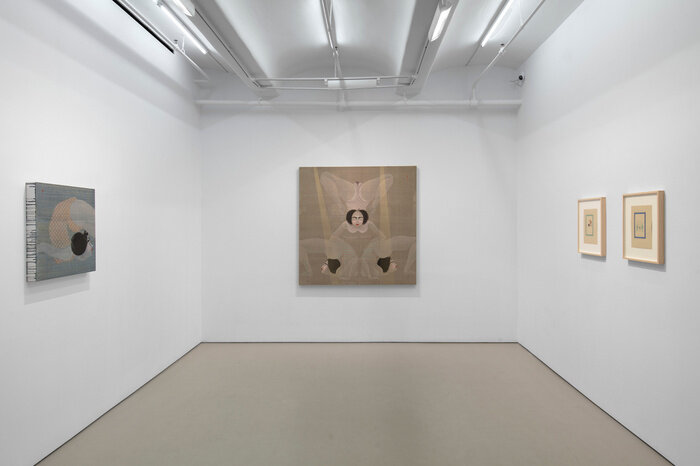 Not Quite Human
20th Street, Sep 05 – Oct 26, 2019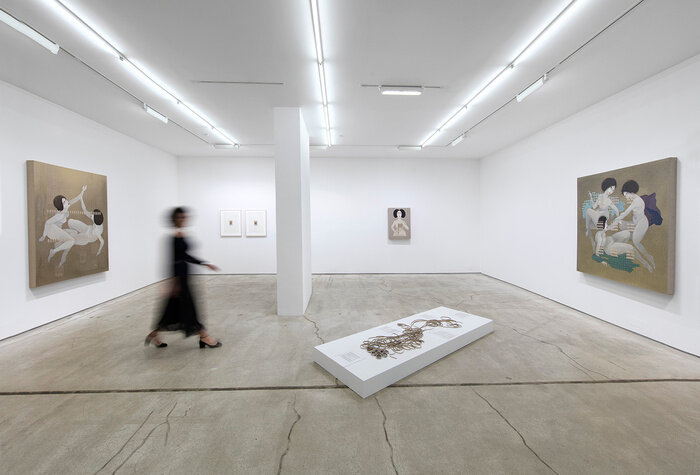 Re Weaving Migrant Inscriptions
24th Street, Oct 26 – Dec 20, 2017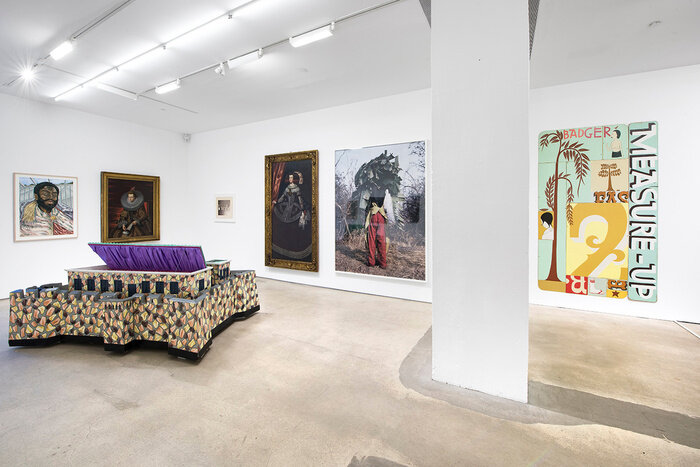 The Coffins of Paa Joe...
24th Street, Jun 08 – Aug 25, 2017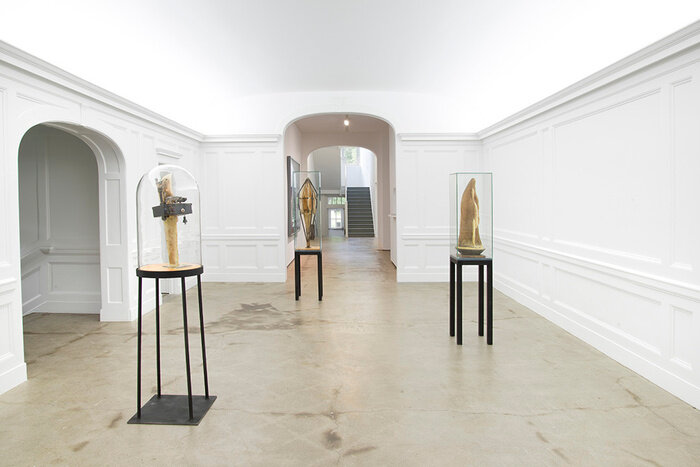 A Change Of Place: Four Solo Exhibitions
The School, May 22 – Oct 29, 2016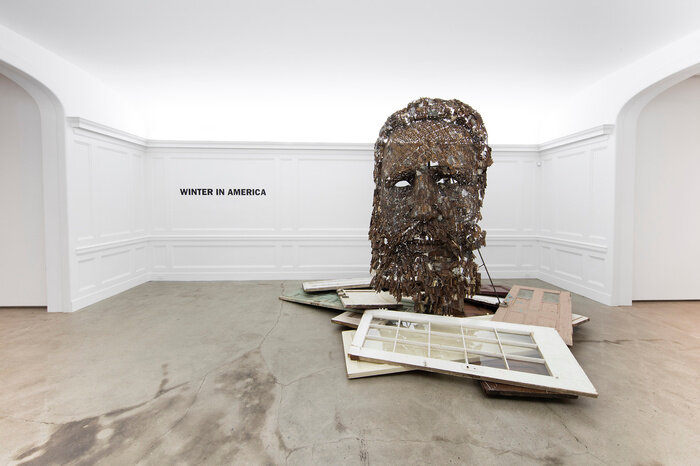 Winter In America
The School, Oct 17, 2015 – Mar 19, 2016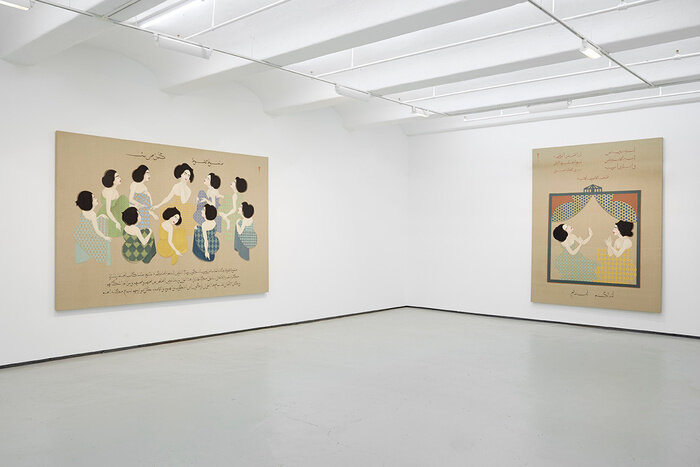 How Iraqi Are You?
20th Street, Feb 27 – Apr 04, 2015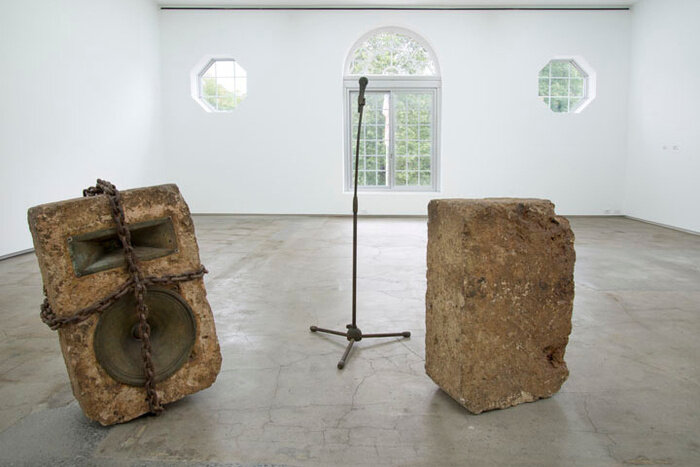 Mise En Scène
The School, Aug 01 – Dec 01, 2014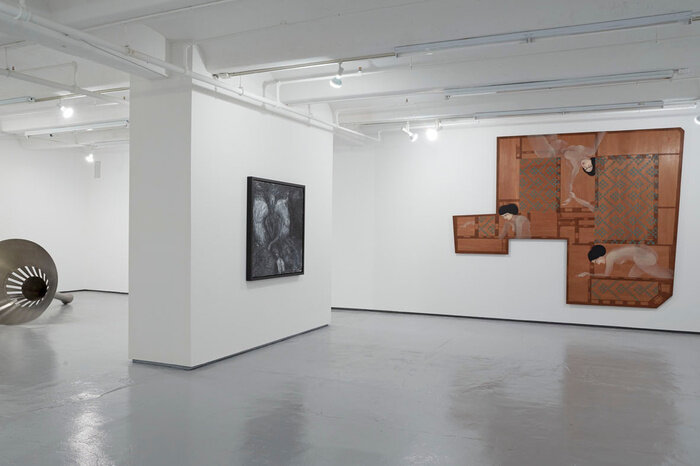 The Shape Of Things
20th Street, Jun 05 – Jul 25, 2014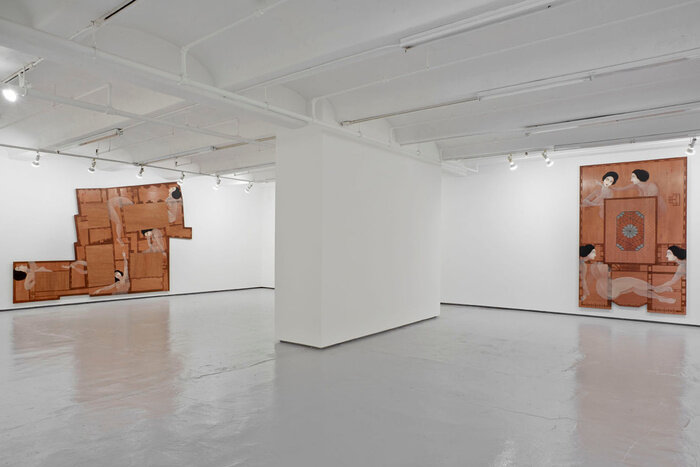 Let The Guest Be The Master
20th Street, Sep 10 – Oct 12, 2013