Yoan Capote: Requiem | Purification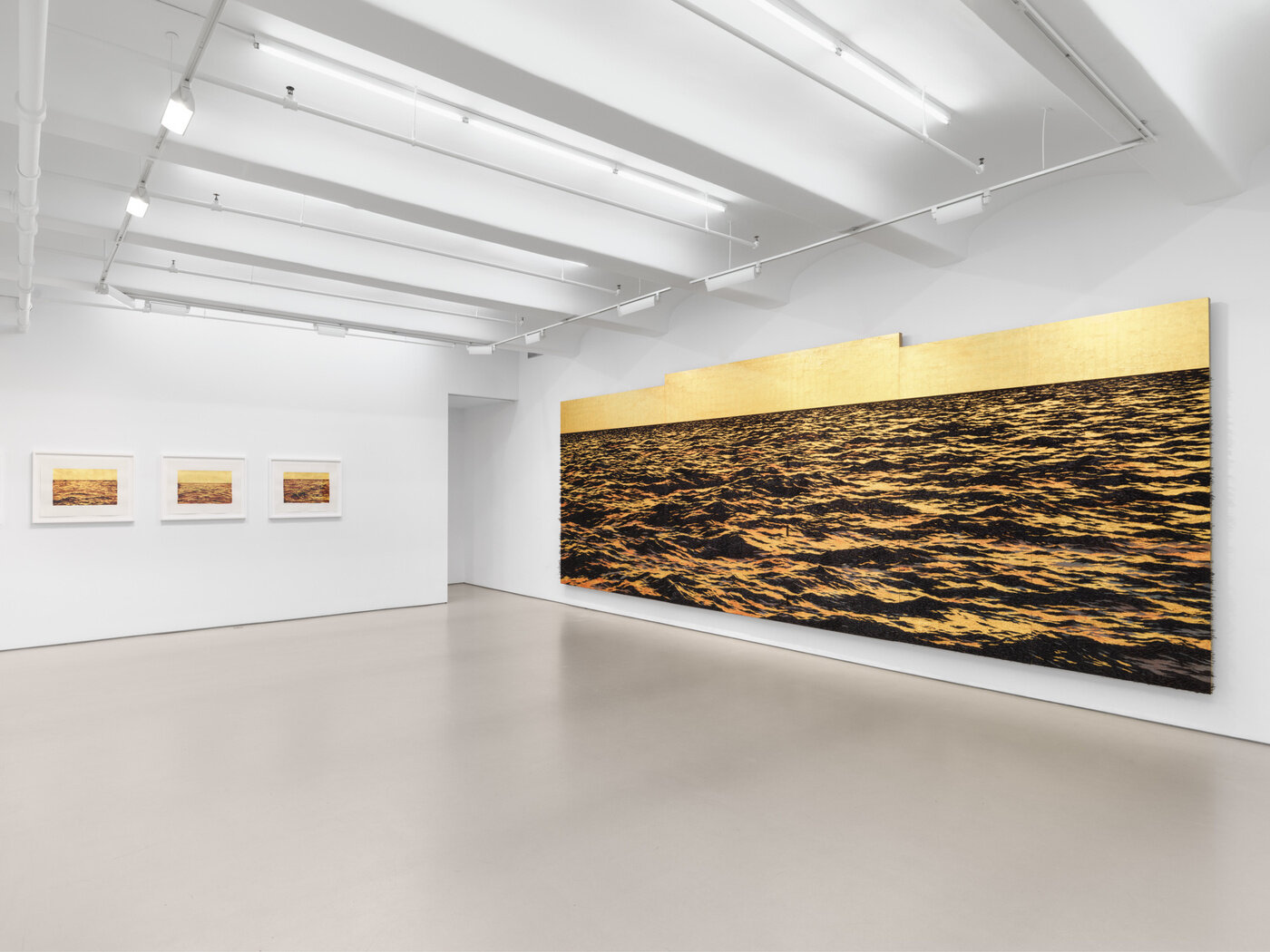 1/19

2/19

3/19

4/19

5/19

6/19

7/19

8/19

9/19

10/19

11/19

12/19

13/19

14/19

15/19

16/19

17/19

18/19

19/19
Dates
Jun 30 – Aug 05, 2022
Location
513 West 20th Street New York, NY 10011
Press Release
REQUIEM
513 West 20th Street
PURIFICATION
524 West 24th Street
June 30 – August 5, 2022
Opening Reception Thursday, June 30 5–7PM


Jack Shainman Gallery is pleased to present two new series of work by Yoan Capote across both our Chelsea locations. REQUIEM, being shown for the first time in the United States will be on view at 20th Street, while PURIFICATION will debut at 524 West 24th Street. The two series work in dialogue to expand Capote's iconic seascapes towards a wider, global spectrum of reflection by underscoring the values, symbolism, and cultural importance of the culled materials used to create the works: recycled fishhooks, deconstructed barbed wire, gold leaf, and plaster amongst others. REQUIEM was inspired by a recent trip to Italy, during which Capote made pilgrimages to the artistic masterpieces housed in churches, mausoleums, and museums. This context also allowed him to connect more directly to the migratory currents of the Mediterranean Sea. What surfaced were parallels to his own deeply complicated relationship with the sea informed by his Cuban experience.
"In Havana, [it] is very common to find people in front of the sea, throwing the ashes of a dead family member, praying to the soul of migrants that never returned, or pleading to Afro Cuban gods."
- Yoan Capote
Rooted in the styles of early Renaissance religious paintings and Medieval altarpieces, gold leaf is a central element of the paintings that comprise REQUIEM. Gold has been historically associated with the divine and spiritual, used to represent purity, devotion, and heavenly light. The word "oro" in the Spanish language is derived from the Latin word aurum, which means "brightness of the rising sun." Beyond its material value, gold has been used in artworks and altarpieces across cultures to evoke an otherworldly, transcendental atmosphere conducive to reflection and meditation. In the new seascapes, Capote gilds the sunset sky with gold leaf – the brilliant light of the horizon an allegory of the hope of migrants for a better future. These paintings function in many ways as a different kind of altarpiece, evoking a spiritual connection with nature and death. For the artist, these seascapes are a visual homage to the spirits of migrants across cultures who have died at sea and stand in empathy to the grand suffering of all life.
"I still see horizons where you draw borders."
- Frida Kahlo
Throughout PURIFICATION are moments of deconstruction, tension, aggression, and control. Capote recycles and reworks chains, barbed wire fencing, and other metal detritus into alternate shapes and dimensions. It is no coincidence that the use of these materials elicits themes of border divides, regulation, liberty, migration, power, and oppression. Capote manipulates the metal material by straightening, flattening, or beating it, using the vitiated metal to draw meticulous lines across a plaster primed surface. A video documenting the act of reworking these materials in the studio is on view at our 24th Street location. Watching as the materials are stripped down and reclaimed captures the power of the process. In the final pieces, these metal elements have oxidized in areas to stain the plaster beneath, creating a natural contour to the linear designs. Capote further illuminates these rusted blemishes in some of the artworks with thin layers of oil paint, injecting subdued moments of color that feed into and against the gold planes.
Capote writes, "the absurd act of releasing the barbed wire of its aggression takes away all its sharp ends and returns it to its primary straight shape. I see this as a metaphor for the purification of the object and its function, and something similar happens when all the chain links are fragmented and bent with fire." The artist's obsessive, near tantric action of cutting handcuffs and wire with jeweler tools, transforming them into fragile lines that draw clouded skies and vast horizons creates a form of visual poetry. For Capote, it reinforces the pursuit of liberty as an intrinsic part of human nature.
By presenting these series intermingled across both gallery spaces, the laborious material and process of making opens a broader dialogue. The exhibition alludes to questions of who has access to the ideals of hope, life, and liberty, and if we can reconstruct landscapes of optimism, making them accessible to all.
Yoan Capote has exhibited extensively internationally. Earlier this year his work was highlighted in the 23rd Biennale of Sydney. In 2022, he was also included in "Adiós Utopia: Dreams and Deceptions in Cuban Art, 1950-2015" at the Museum of Fine Arts, Houston. The exhibition will be traveling to the Hirshhorn Museum, Washington, D.C., The Walker Art Center, Minneapolis, and the Pérez Art Museum, Miami. He was also one of four artists to represent Cuba at the 54th Venice Biennale in "Cuba Mon Amour" (2011), and his thirty-foot tall, monumental sculpture Stress was installed in Portugal Arte 10 in Lisbon (2010).
Capote has been the recipient of numerous awards including International Fellowship Grant from the Guggenheim Foundation (2006), a UNESCO Prize (2000), a Pollock-Krasner Foundation Grant (2006), a Vermont Studio Center Fellowship (2002), and a residency at the Brownstone Foundation in Paris (2003). A monograph of Capote's work, with contributions by Hans-Michael Herzog, Danielle Knafo, Nelson Herrera Ysla, Alex Rosenberg, Magda González-Mora, and Charmaine Picard was published by Skira.  
Gallery hours are Monday through Friday from 10am to 6pm. For press inquiries please contact Carolina Adams, Sutton, carolina@suttoncomms.com, +1 212 202 3402. For other inquiries please contact the gallery at info@jackshainman.com.