What Goes Without Saying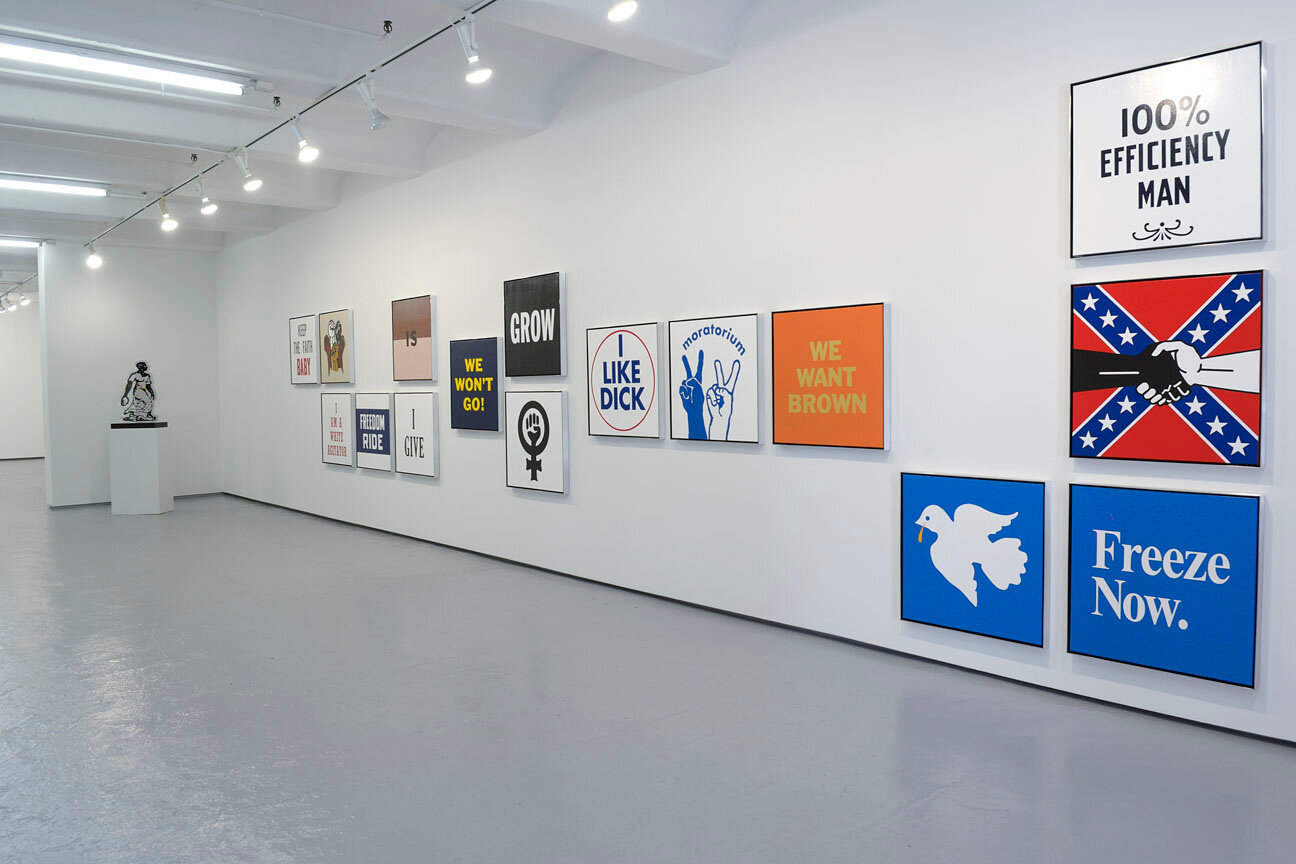 1/11

2/11

3/11

4/11

5/11

6/11

7/11

8/11

9/11

10/11

11/11
Dates
Oct 18 – Dec 08, 2012
Location
513 West 20th Street New York, NY 10011
Press Release
HANK WILLIS THOMAS
What Goes Without Saying
October 18 – December 8, 2012
Opening reception for the artist: Thursday, October 18th, from 6 – 8 PM
Jack Shainman Gallery is pleased to announce the opening ofWhat Goes Without Saying, Hank Willis Thomas' third solo exhibition with the gallery. The show includes photographs, sculpture, painting and new media, all which delve into the construction of mythologies embedded in popular culture. Known for his innovative use of advertising, a globally ubiquitous language, he builds complex narratives about history, identity and race.This show brings together several facets of Thomas' practice toexplore objects and language, torn from their history,brought toour present,andrepurposed to reveal the process of their agency.

The works inWhat Goes Without Sayingdraw from a section of Roland Barthes' book, Mythologies, toexplore the ideas of explicit and implicit representations found in objects, gestures and phrases.By separating language from the advertising in which it appears, he effectively deconstructs the relationship between the reader and viewer. In Thomas' new carborundum works, part ofthe Fair Warning series,hetakes text from cigarette advertisingin magazinesfrom the1960s, 1970s, and 1980s,retaining the font while abandoning the accompanying visuals. The decontextualized sloganslikeStronger Yet Milder, Measurably Long, andImmeasurably Cool,come to stand for more than just a cigarette,highlighting the adjectives used to connote power and elegance, often times with a sexual tone.These works, produced at the Lower East Side Print Shop where Thomas is currently in residence,are made from a material that simultaneously provides a galactic backdrop while mimicking the non-slip adhesive commonly used to demarcate space in museums. Theuseof thematerial furthercomplicatesthe object-viewer relationship.
Representing identity through symbol and political motive, Thomas brings together a series ofpaintings sourced from the advocacy buttons worn in support of parties, movements and ideologies over the past fifty years. These small gesturesareused as intellectual weapons and markers of participation.Alliances are transformed into precious objects that speak to the creation of collective language andthepower of symbols.

Individual objects and their histories are further explored inThenceforward and forever free, an enlarged replica of amid-19th century abolitionist lapel pin toting a photograph encircled by delicately wrought alloy metal known to be one of the very first political buttonsto incorporate a photograph. Thomas is able to resurrectthe object's history and re-chargeits agency to reflect a characteristically American means of both political advertising and personal expression.
What Goes Without Sayingfocuses on subtext, shifting meaning andthe complexity of historical actions embedded in visual culture.These ideas are important in the context of the current election and the theater of the campaigns.
Hank Willis Thomas lives and works in New York City. He has exhibited extensively throughout the United States and internationally. Recent solo and group exhibitions include Strange Fruit, The Aldrich Contemporary Art Museum, Connecticut, 2012; Hank Willis Thomas: Strange Fruit, Corcoran Gallery of Art, Washington, D.C., 2011-2012; 30 Americans, Rubell Family Collection, Florida, 2008–2013, traveling next to the Memphis Brooks Museum, Tennessee; More American Photographs, CCA Wattis Institute for Contemporary Art, California, 2011 -2013, traveling next to the Wexner Center for the Arts, Ohio; Making History, MK Museum für Moderne Kunst, Germany, 2012; 12th Istanbul Biennial, Turkey, 2011; and Greater New York, MoMA PS1, New York, 2010.
Thomas is included in numerous private and public collections including the Museum of Modern Art, New York; the Solomon R. Guggenheim Museum; New York, the Studio Museum in Harlem, New York; The Whitney Museum of American Art, New York; and the Baltimore Museum of Art, Maryland.
Thomas, along with Chris Johnson, Bayeté Ross-Smith, and Kamal Sinclair, created Question Bridge, a project that critically explores challenging issues within the black male community by instigating a transmedia conversation among black men across the geographic, economic, generational, educational and social strata of American society. It has been shown at the 2012 Sundance Film Festival, the 2012 Sheffield Doc/Fest, the Brooklyn Museum, the Oakland Museum of California and the Utah Museum of Contemporary Art and is currently on view at the Project Row Houses in Houston, Texas.
Upcoming exhibitions at the gallery include El Anatsui,Pot of Wisdom, opening December 14th, on view through January 19th, 2013.
Gallery hours are Tuesday through Saturday from 10 am to 6 pm. For additional information and photographic material please contact the gallery at info@jackshainman.com.