The Village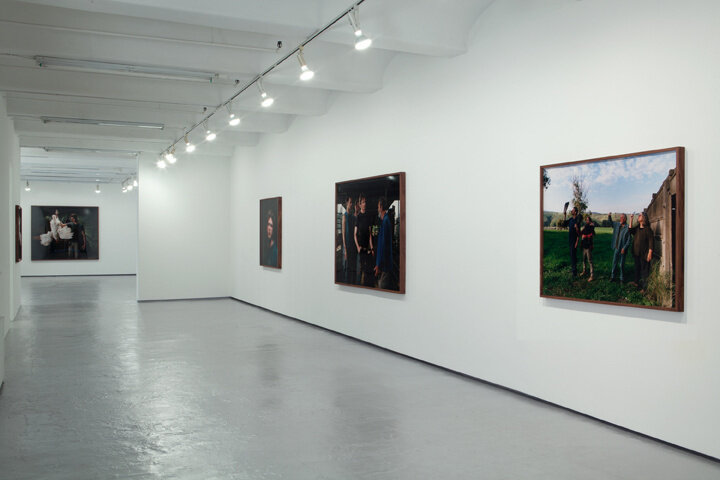 1/7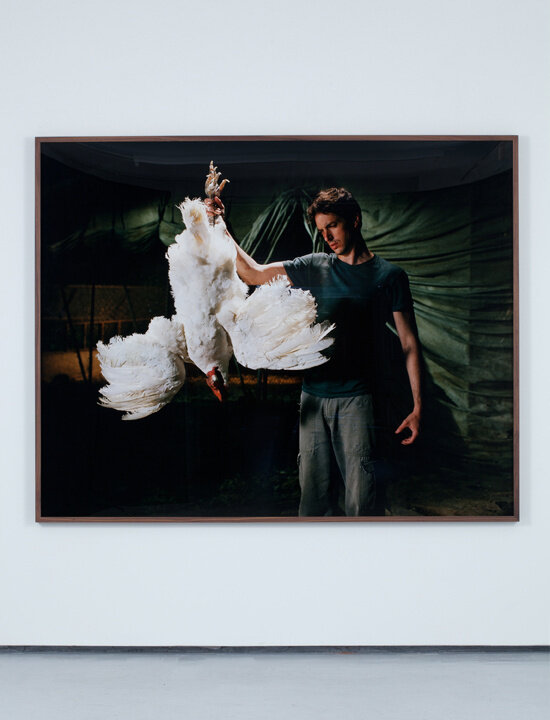 2/7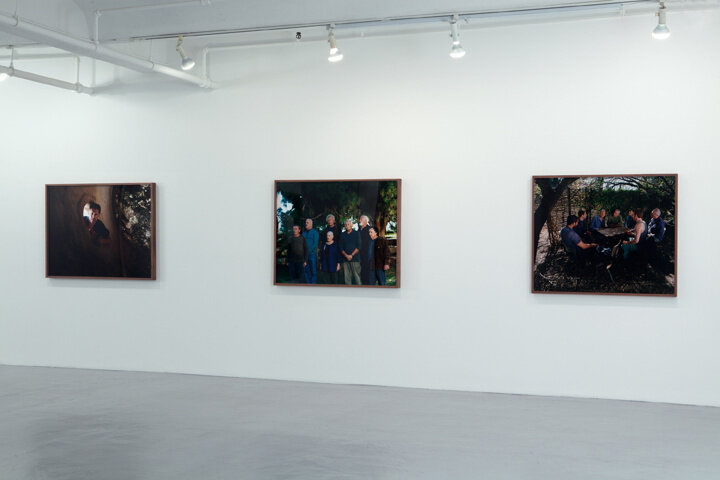 3/7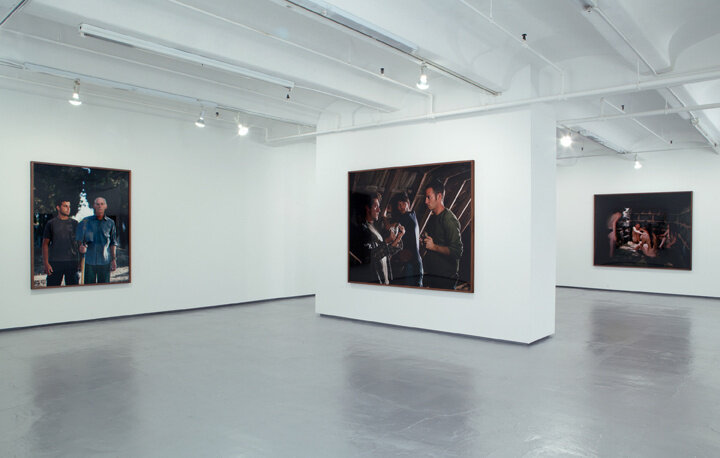 4/7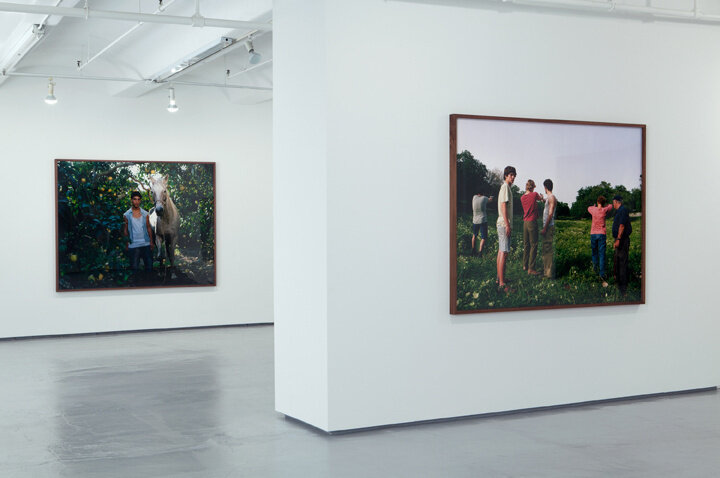 5/7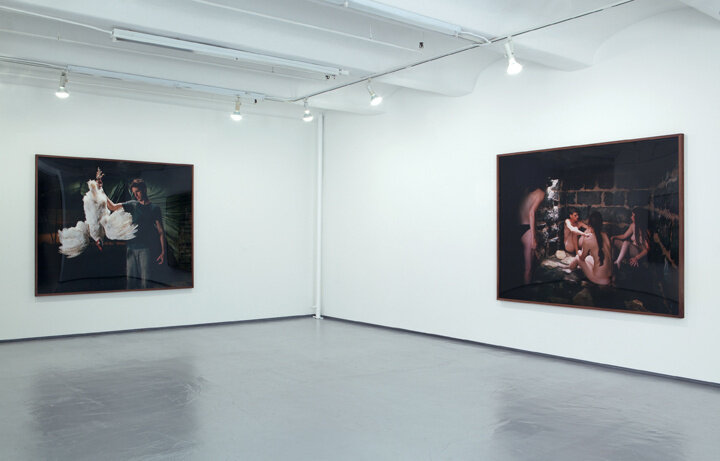 6/7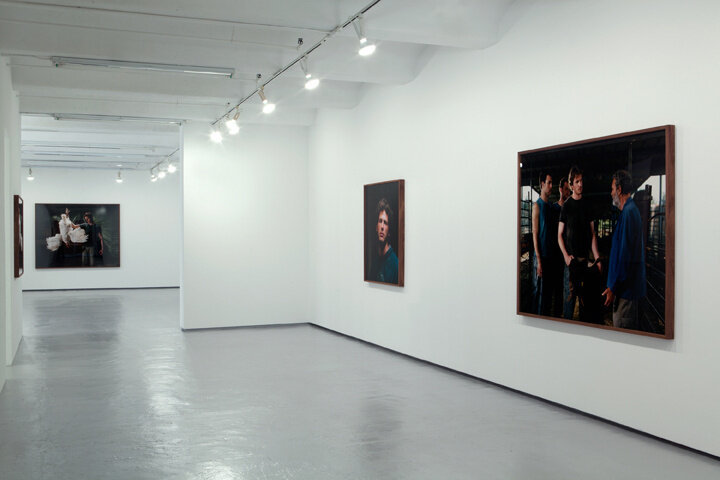 7/7
Dates
Jun 07 – Jul 27, 2012
Location
513 West 20th Street New York, NY 10011
Press Release
ADI NES
The Village
June 7 – July 28, 2012
Opening reception for the artist: Thursday, June 7, from 6 – 8 PM
Jack Shainman Gallery is pleased to announce The Village, a solo exhibition of large format photographs by Adi Nes. In this new series Nes continues working from parabolic tales rife with collective cultural memory. The Village is composed of meticulously staged images of fictional village life, pastoral images laden with anxiety and imbued with underlying layers of tension.
In one image, a diverse group of villagers participates in a shooting exercise at the edge of what Nes describes as "an invisible line around the settlement where everything beyond it is off limits." Isolation and alienation is palpable in the positions of the bodies and the chilly implications of the action. This very alienation is described by Nes to be not only a part of his practice but also how he experiences the world. The aura of powerlessness and fear is exacerbated by the increasingly dense vegetation that demarcates the village's imaginary borders.
The series is split between indoor scenes that allude to an interior psychological world, and outdoor scenes that dissect interpersonal relationships. Regardless, all the images are permeated by a deep sense of unease. In a scene which takes place within the confines of an old building,three young men catching bats exchange loaded gazes. Nes sees the bats as representing dirty secrets, explored in this cramped and dark attic space. This moment is reminiscent of Nes' earlier work where sexual tension is ever-present, delving into complex explorations of homoeroticism.Each of the photographs seems to hover either before or after an action, leaving the action itself open to the viewer's personal associations. Using archetypal references to tragedy and myth, such as dichotomies between Apollonian and Dionysian or the use of classical tropes such as the Greek chorus, Nes situates the villagers as protagonists in an epic tale of isolation and utopianism. As in his previous series, Nes uses an art historical language, referencing well-known artworks such as Grant Wood's American Gothic, Los Caprichos by Francisco Goya, Pablo Picasso's Boy Leading a Horse, and Pieter Bruegel's Landscape with the Fall of Icarus, to examine contemporary Israeli identity as well as issues of gender, militancy, statehood, intergenerational relationships, and the function of art. These themes ultimately coalesce to a layered exploration of human relationships and the function of myth.Adi Nes was born in Kiryat-Gat, Israel and now works in Tel Aviv. He currently has an exhibition on view in Toronto, organized by the Koffler Center of the Arts. Nes has had solo shows at the Contemporary Jewish Museum, San Francisco; the Wexner Center for the Arts, Columbus; the Tel Aviv Museum of Art, Israel; and the Museum of Contemporary Art, San Diego. His work is in many public collections including the Corcoran Gallery of Art, Washington, DC; the Montreal Museum of Fine Arts, Canada; The Jewish Museum, New York; the Tel Aviv Museum of Art, Israel and The Israel Museum, Jerusalem.
Gallery hours are Tuesday through Saturday from 10AM to 6PM.
Summer hours starting July 9 are Monday through Friday from 10AM to 6PM.