The Fall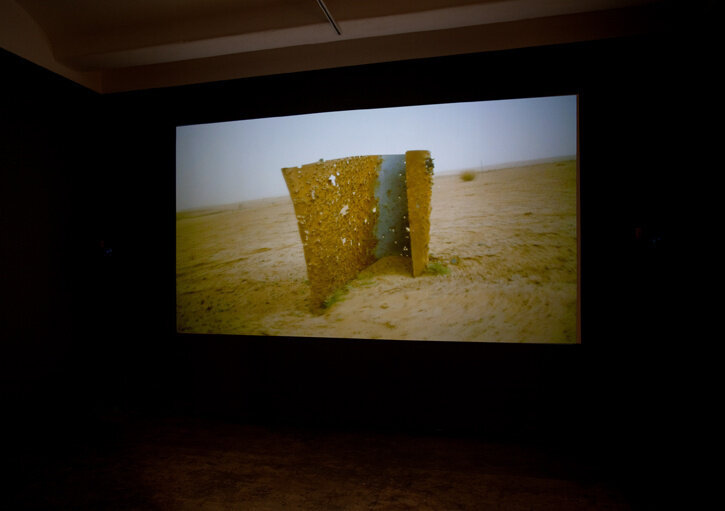 1/8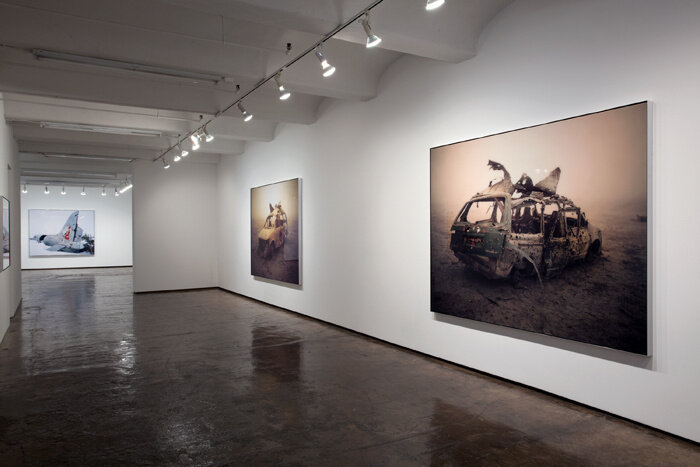 2/8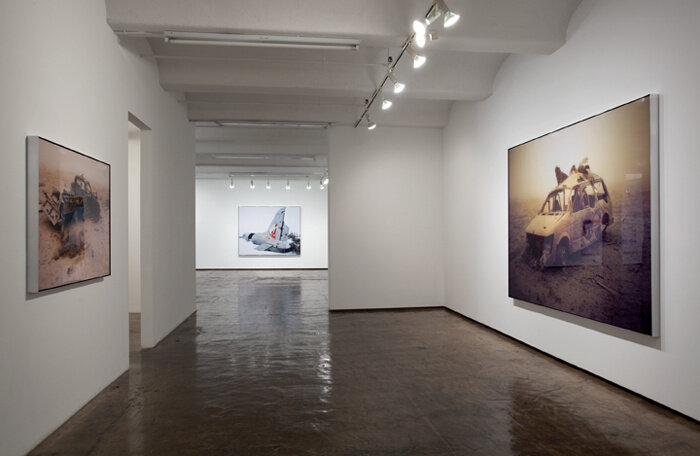 3/8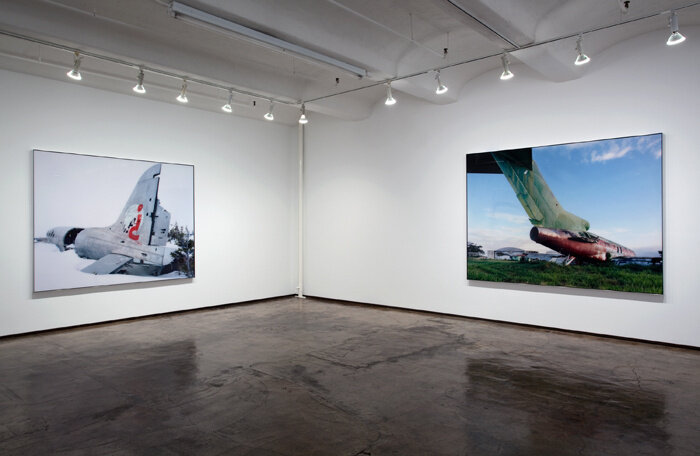 4/8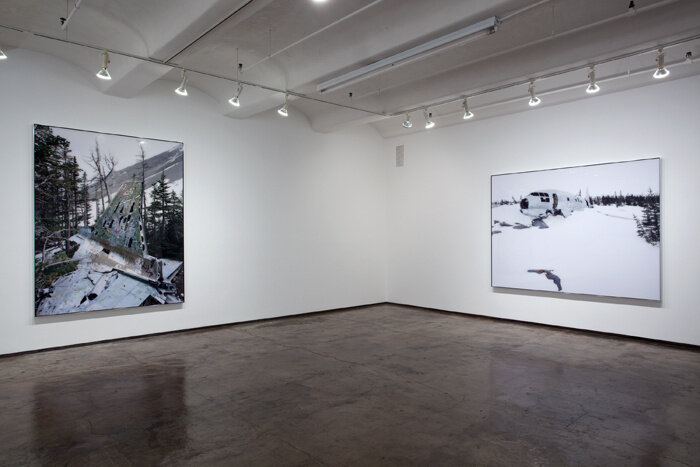 5/8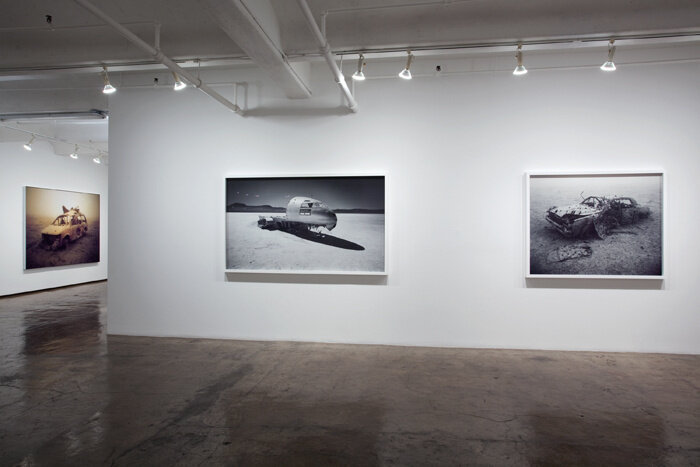 6/8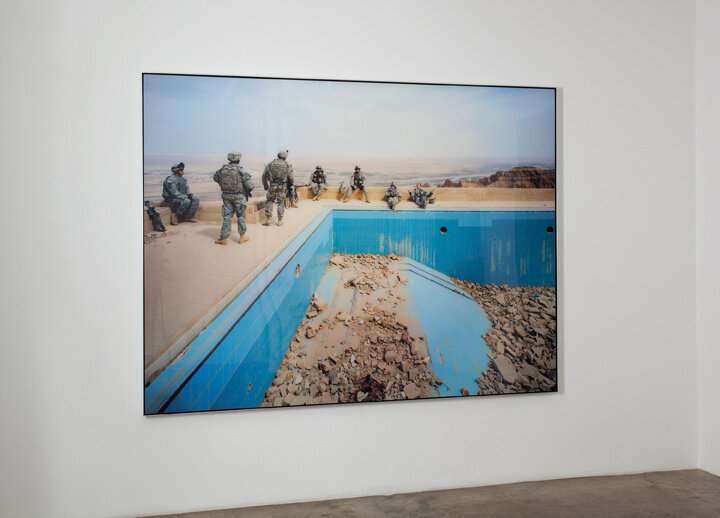 7/8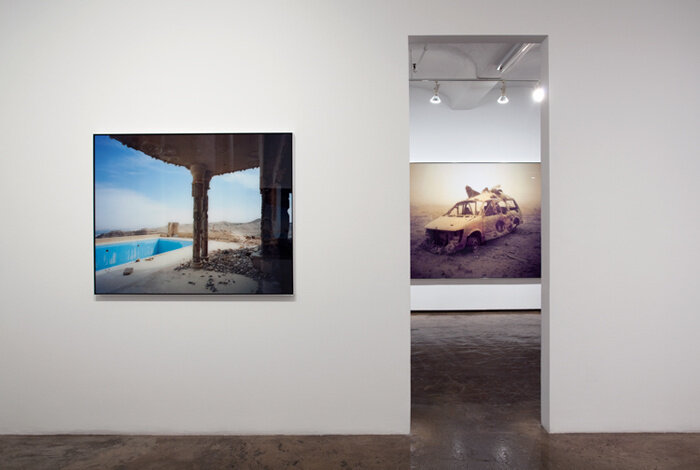 8/8
Dates
Nov 19 – Dec 23, 2009
Location
513 West 20th Street New York, NY 10011
Press Release
RICHARD MOSSE
The Fall
November 19 - December 23, 2009

Opening reception: Thursday, November 19, 6-8 pm
After fifty summers, the wrecked aircraft's ultra-modern form becomes a part of the primeval landscape. Its shattered carapace lies scorched by the sun and scoured by extreme winters. Redolent of science fiction, these Futurist antiques have been partially cannibalized, their unwanted buckled shell listing in the mountain gales. American and Japanese automobiles lie scattered in the dangerous wastes of central Iraq. Ephemeral relics, shot to a skein of rusting metal, tremble delicately in the abrasive dust storm. Like Saddam Hussein's shattered hilltop palace, these are the follies of globalized forgetting.
Around the time that Thoreau pegged the idea of wilderness as a cultural construct, the new technology of photography was gaining weight as a tool of Empire. This was the era of the photographic survey. Teams embarked with view cameras and mobile darkrooms to chart and document remote territories. Seemingly neutral in intent, the photographic survey was anything but. Surveyors often worked as part of a military unit, such as the British team who took part in the Abyssinian Campaign of 1867-68. This was in fact a rescue mission, but the corps of Royal Engineers produced 1,500 landscape photographs during the expedition. This was a valuable document of Abyssinia at that time, as well as being an apparatus of colonization and propaganda.
The Fall is a photographic survey of our historic unconscious. Mosse travelled to intensely remote locations, from the Patagonian Andes to the Yukon Territories, and worked as an embed with the US military to produce work for this exhibition. The Fall is a rescue mission to try to locate our blasted sense of landscape and archeology, and reclaim the primeval waste for our imagination. Produced to an epic scale, each of the photographs in The Fall is a history painting for our times.The Fall is comprised of work from Mosse's first year of working with the two-year Leonore Annenberg Fellowship in the Performing and Visual Arts.
Born in Ireland, Richard Mosse earned his Postgraduate Diploma in Fine Art from Goldsmiths, University of London in 2005 and his MFA in Photography from Yale School of Art in 2008. His work has been exhibited at Tate Modern, The Barbican Centre and Art Chicago.His work has been featured on the front cover of Source, an established British photography magazine, as well as in Art Review, C International Photo Magazine and Lapiz. Mosse has been interviewed on National Public Radio and London's Resonance FM. His work will be included in the upcoming Fotofest 2010 Biennial ofContemporary U.S. Photography, March 12 - April 25, 2010, Houston, TX.

Gallery hours are Tuesday – Saturday from 10 am to 6 pm. For additional information and photographic material please contact the gallery at info@jackshainman.com.
Upcoming exhibitions include Pascal Grandmaison: The Inverted Ghost, opening January 7, on view through February 6, 2010, and Kay Hassan opening February 11, on view through March 13, 2010.