Geoffrey Chadsey: That's Not It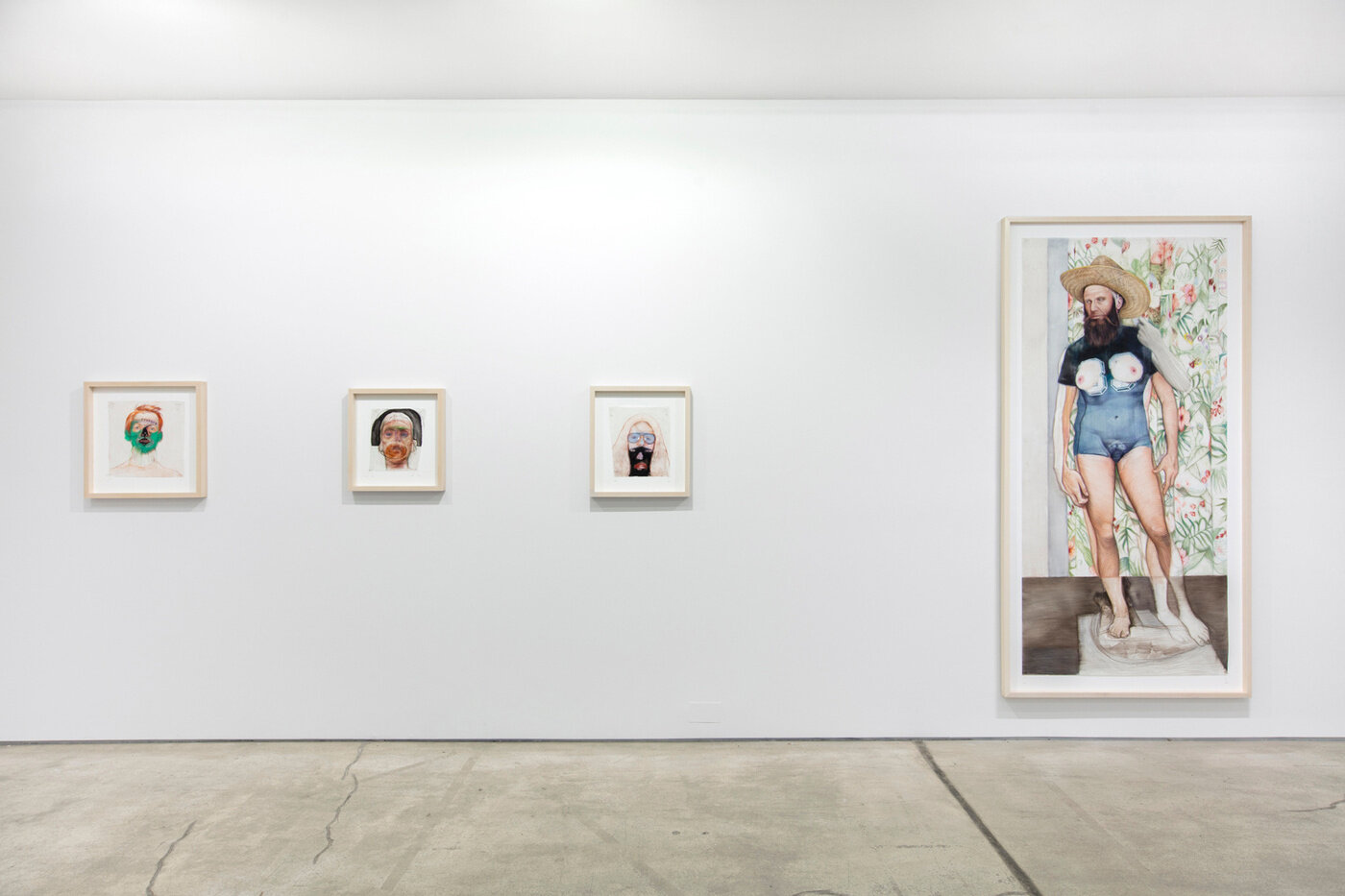 1/20

2/20

3/20

4/20

5/20

6/20

7/20

8/20

9/20

10/20

11/20

12/20

13/20

14/20

15/20

16/20

17/20

18/20

19/20

20/20
Dates
May 17 – Jun 23, 2018
Press Release
GEOFFREY CHADSEY
THAT'S NOT IT
May 17 – June 23, 2018
Opening reception for the exhibition: Thursday, May 17th, from 6-8 PM at 524 West 24th Street
Jack Shainman Gallery is pleased to announceTHAT'S NOT IT,an exhibition of drawings by Geoffrey Chadsey. In his ongoing series of painterly, drawn portraits, Chadsey continues a decade-long exploration of fantasized subjects that hover in the sfumato between the masculine and the effeminate: they are made-up "men" composed of selves presented for an unseen, image-consuming digital audience. If Giorgio Agamben describes persona as the mask through which we maintain social status, Chadsey's morphed persons have visages that blur andflicker, as if yet to settle into a coherent identity.The pentimenti evidenced in Chadsey's transparent process of drawing multiplies the poses on top of each other, as if they are inconstant state of shedding, becoming.Thesemen are caught up in enacting the various aspirations of the hyper-American notion of being all you can be.They are anxious, stuck perhaps in a moment of white male fragility: the center is not holding,the multipledrop-down-menuarchetypes they enact clashing for attention. But they are excited, too; in the midst of a peacock display.
With additional references ranging from the obscure (nude portraitsfrom Paris' Salpetrière hospital) to the mundane (a close look reveals the Quaker Oats mascot), Chadsey's cyborg characters are alluringly bizarre. His hybrid figures succeed in making the strange familiar and the familiar strange, blurring the line between viewer and subject, between personal history and the artist's internet search history.The tree-ring pencil-lined skin of Chadsey's men, an allusion both to Gustave Doré's copperplate etchings of Dante's Inferno and to presidential portraits on US currency, lead our eyes to travel along the subjects' surfaces, rendering the body, itself, as an evolving physical narrative. Presented in glassless frames, the drawings are delicate, vulnerable even. Overwhelmingly articulated in life-size scale, the figures insist on being beheld.
Geoffrey Chadsey, born in Philadelphia, currently lives and works in Brooklyn. He earned his BA in Visual and Environmental Studies at Harvard University and his MFA from the California College of the Arts. He has exhibited his work in solo and group exhibitions at numerous institutions, most recently at the Boston University Art Gallery, as well asthe Contemporary Art Museum, Honolulu; theSan Francisco Museum of Modern Art; San Jose Museum of Art; the San Diego Museum of Art;Yerba Buena Center for the Arts, San Francisco; and the Frye Art Museum, Seattle, WA. He is a 2011 New York Foundation for the Arts John Burton Harter Charitable Trust Fellow, and has been the recipient of the Artadia Art Council Jury Award and the Fine Arts Work Center Fellowship.
Concurrently on view is Weather or Not, an exhibition of works by Nick Cave at 513 West 20th Street. Join us at The School on May 20th for the opening of Travelogue, an exhibition in the main space of recent works by Radcliffe Bailey, along with a series of solo presentations by Nina Chanel Abney, Shimon Attie, Math Bass, Valérie Blass, Vibha Galhotra, Margaret Kilgallen, Lyne Lapointe, Gordon Parks, and Leslie Wayne.
Gallery hours are Tuesday through Saturday from 10 am to 6 pm.For press inquiries please contact Katherine Wisniewski, SUTTON, katherine@suttonpr.com, +1 212 202 3402. For other inquiries please contact the gallery at info@jackshainman.com.