Tearing & Lifting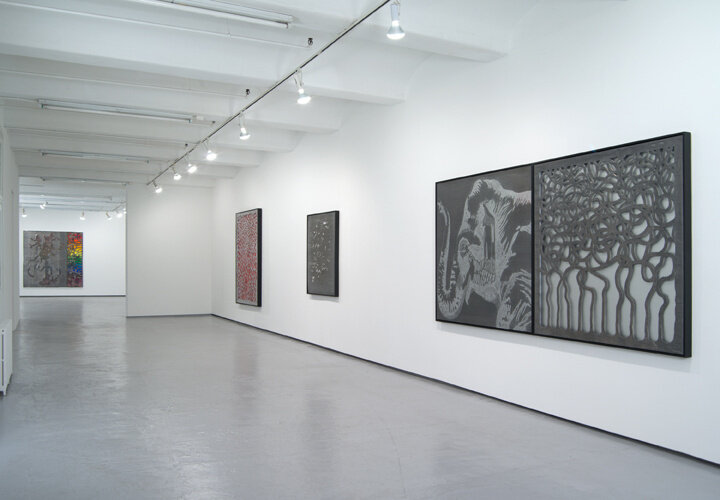 1/8

2/8

3/8

4/8

5/8

6/8

7/8

8/8
Dates
Apr 26 – Jun 02, 2012
Location
513 West 20th Street New York, NY 10011
Press Release
CARLOS VEGA
Tearing & Lifting
April 26 – June 2, 2012
Opening reception for the artist: Thursday, April 26, from 6 – 8 PM
Jack Shainman Gallery is pleased to announce Tearing & Lifting, a solo exhibition of new work by Carlos Vega. In this body of work, Vega utilizes large-scale lead plates, stamps, oil paint and collage to depict scenes that embody his personal ideas of optimism.
Vega's new series references traditional latticed screens found in his native Melilla, a Spanish city located in North Africa. These architectural elements, made from ornamental patterns, function as windows in homes and convents. They keep the interiors private while allowing occupants vistas of the public outdoors. Vega transforms large scale malleable lead plates through engraving and deep cuts, producing geometric designs that play with ideas of seeing and being seen. In the haunting I Thought of That, Vega removes large sections of lead, revealing a vivid red field below.
In Just Discovered the shape of the newly photographed Eagle Galaxy is an excuse to dwell on the utopian idea of a better world. Incorporating historic postage stamps dating as far back as 1890, Vega traces the transition of postal imagery from depictions of national pride toward illustrations of universal justice and democracy. For Vega, America has been a laboratory for political and social movements including civil rights, gay rights and the women's movement, which have spread throughout the globe. U.S. stamps are clustered in the center of the galaxy, while postage from smaller nations radiate outwards.
Don't Tell Me You Can't returns to figuration, depicting a man bearing the weight of a massive donkey disguised as a deer, whose antlers are encrusted with images of political, national and social leaders. This apocryphal creature references the myth of the idolized historical personage, whose achievements misleadingly seem unattainable. Vega uses this image to forward his egalitarian view of accomplishment, in which any individual can make a significant contribution to their generation.
Carlos Vega was born in Melilla, Spain and lives and works in New York City. Recent exhibitions include a solo show, Apocrofos, at the Instituto de América (Centro Damián Bayón), Spain, and group exhibitions including Chelsea visits Havana at the 9th Havana Biennial, Cuba; De Granada a Gasteiz Un Viaje de Ida y Vuelta, the Fundacion Artium, Alava, Spain; and Black Panther Rank and File, Yerba Buena Center for the Arts, USA, traveling to Southeastern Center for Contemporary Art, USA.
Upcoming exhibitions at the gallery include Adi Nes and Shimon Attie, running concurrently during June and July.
Gallery hours are Tuesday through Saturday from 10 am to 6 pm. For additional information and photographic material please contact the gallery at info@jackshainman.com.