Outer Spaceways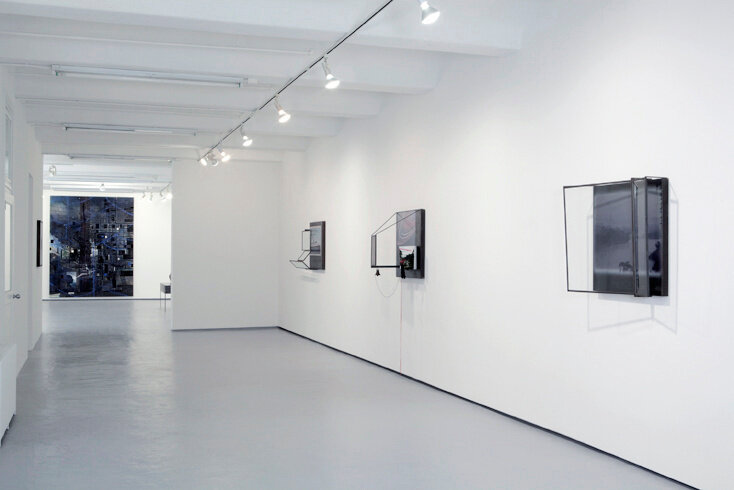 1/11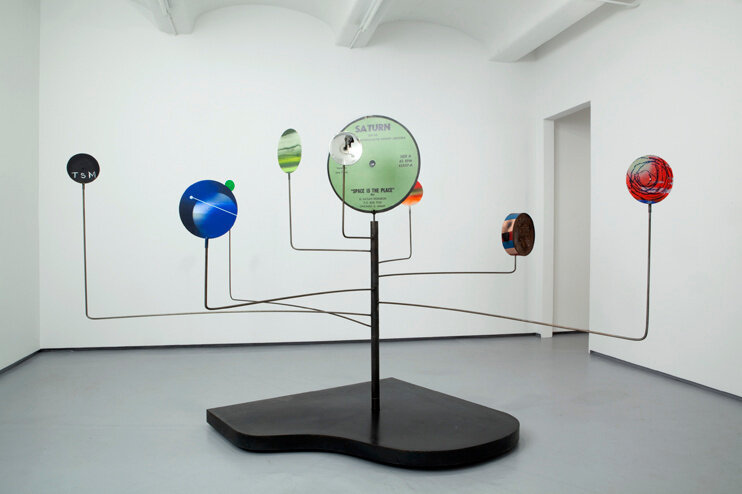 2/11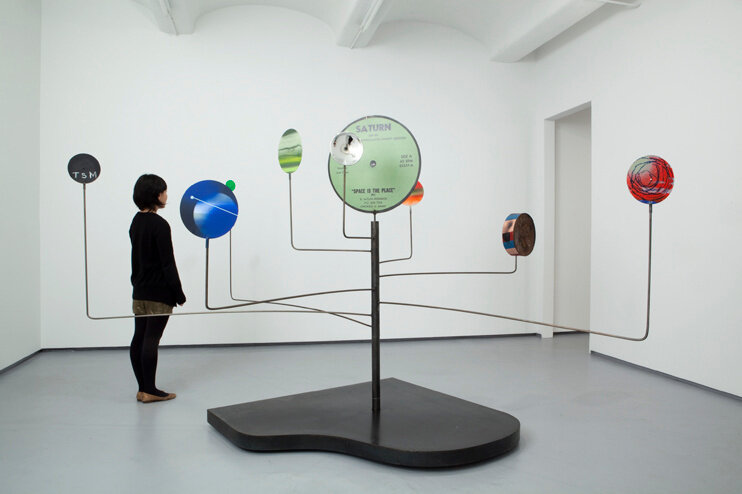 3/11

4/11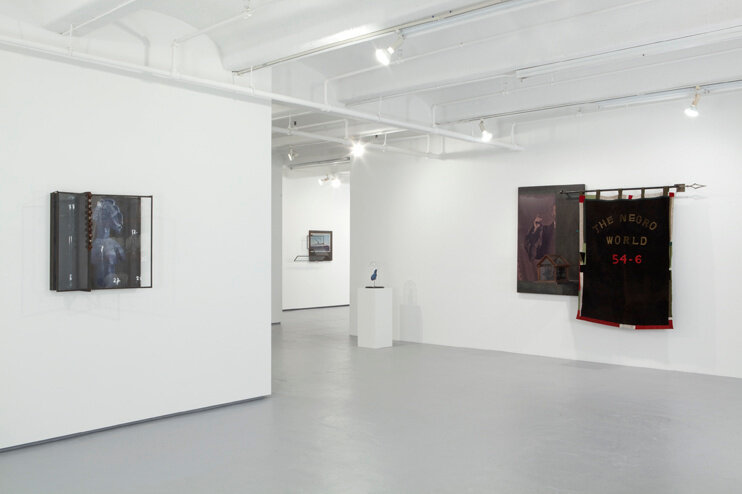 5/11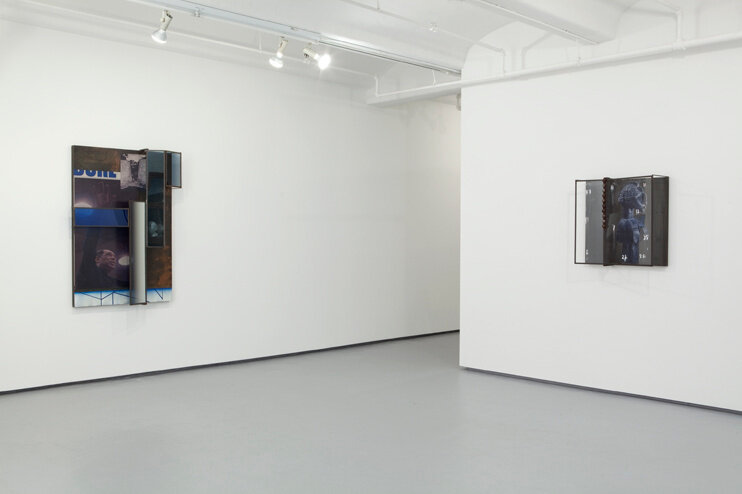 6/11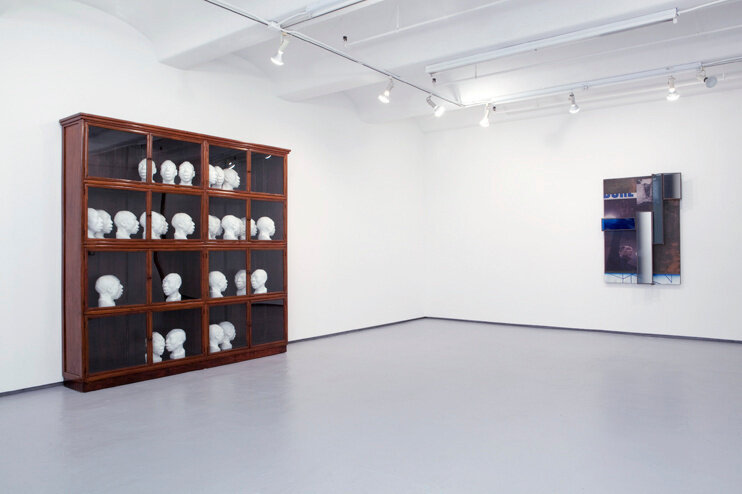 7/11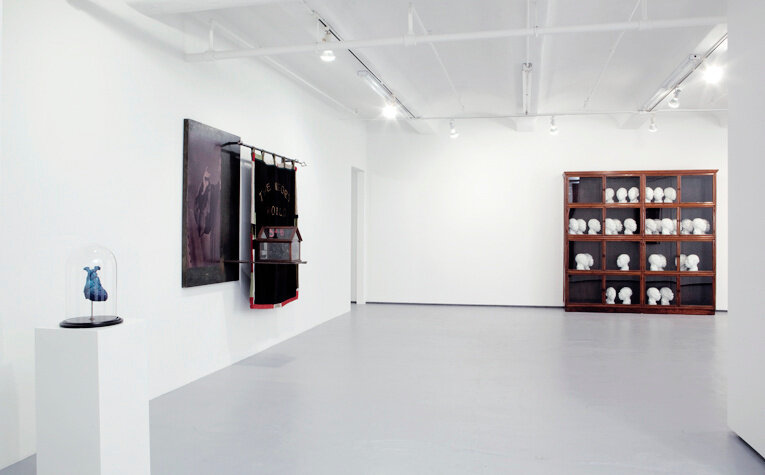 8/11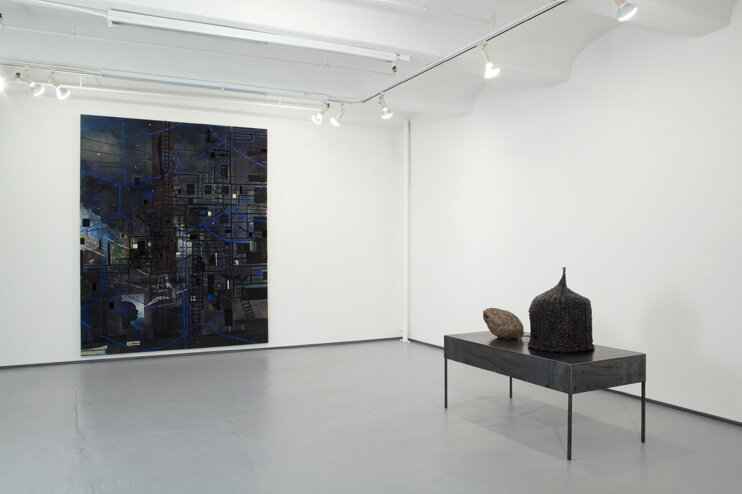 9/11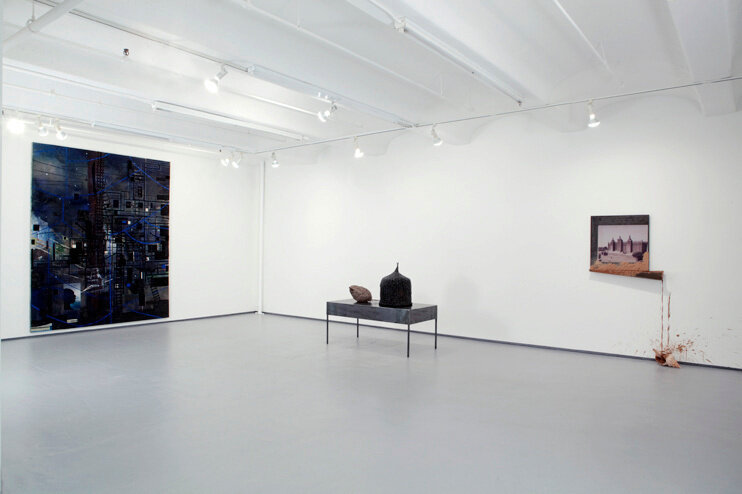 10/11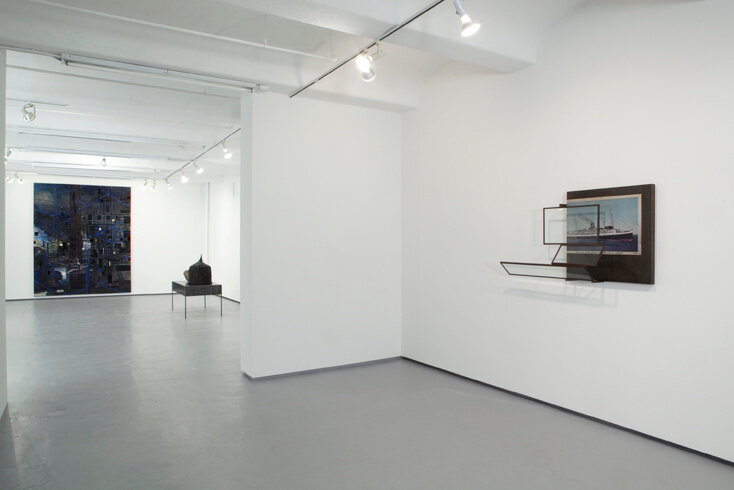 11/11
Dates
Apr 21 – May 21, 2011
Location
513 West 20th Street New York, NY 10011
Press Release
RADCLIFFE BAILEY
Outer Spaceways
April 21 – May 21, 2011
Jack Shainman Gallery is pleased to announce Outer Spaceways, a solo exhibition of new works by Radcliffe Bailey. As Bailey continues to work across mediums, the exhibition includes sculpture, paintings, steel and glass wall-bound pieces, and works on paper. These various elements are strong on their own while working together to create an immersive environment that approaches one cohesive installation.
Bailey invokes Jazz composer, musician, poet and philosopher Sun Ra as an orbital perturbation to his ongoing and ever changing set of interests and focal points. In doing this, Bailey explores a trajectory anchored in ancestral themes and objects that continues on through time and space. Sun Ra's ability to pull from entire histories of musical sounds and genres, while simultaneously occupying a space in the future characterized by his philosophy of interplanetary travel, mirrors Bailey's continuous reexamination of ideas relating to journey and movement. Returning to work primarily with steel, glass and wood, the physical process of making the work serve as performative reenactments of craft and familial traditions.
InCerebral Cavern, Bailey revisits the cabinet, a consistent trope throughout his work referencing a material space imbued with associations of searching for that which heals - be it food, medicine, or something less tangible. Resting on each shelf are groupings of identical plaster heads that become anonymous in their repetition. Inspired by recent global movements sweeping entire geopolitical regions, the work is to be read from the bottom up. Beginning at its base level, the heads whisper to one another. As the work builds upward, their density increases and ultimately the accumulated heads begin to look outward. Continuing this theme of movement and progression, Bailey uses records, circular planetary forms and musical instruments, including the lid of a baby grand piano, to recreate a solar system of ideas and sounds in Other Worlds Worlds.
A solo traveling exhibition of his work, Memory as Medicine, will open at the High Museum of Art, Atlanta on June 26th, 2011 then travel to the Davis Museum and Cultural Center, Wellesley College, Wellesley, MA and the McNay Art Museum, San Antonio, TX. His past exhibitions include, New/Now: Radcliffe Bailey, New Britain Museum of American Art, New Britain, CT, 2004, Neo-HooDoo, organized by The Menil Collection, Houston, TX, at Miami Art Museum, Miami, FL, 2009, and traveled to MoMA P.S.1, Long Island City, NY, 2009. Bailey's work is in the collections of the Metropolitan Museum of Art, New York; the Smithsonian Museum of American Art, Washington, D.C.; The Corcoran Gallery of Art, Washington, D.C.; the Museum of Fine Arts, Houston, TX; the Nelson-Atkins Museum of Art, Kansas City, MO and the High Museum of Art, Atlanta, GA, among others. This will be Bailey's fifth solo show at the gallery.
A significant monograph will accompany Memory as Medicine, published by the High Museum of Art in conjunction with Prestel, and will be available in mid May.
Upcoming exhibitions at the gallery include Jean-Pierre Gauthier and Toyin Odutola, opening May 26th, on view through June 25th, 2011.
Gallery hours are Tuesday through Saturday from 10 am to 6 pm. For additional information and photographic material please contact the gallery at info@jackshainman.com.