Maroons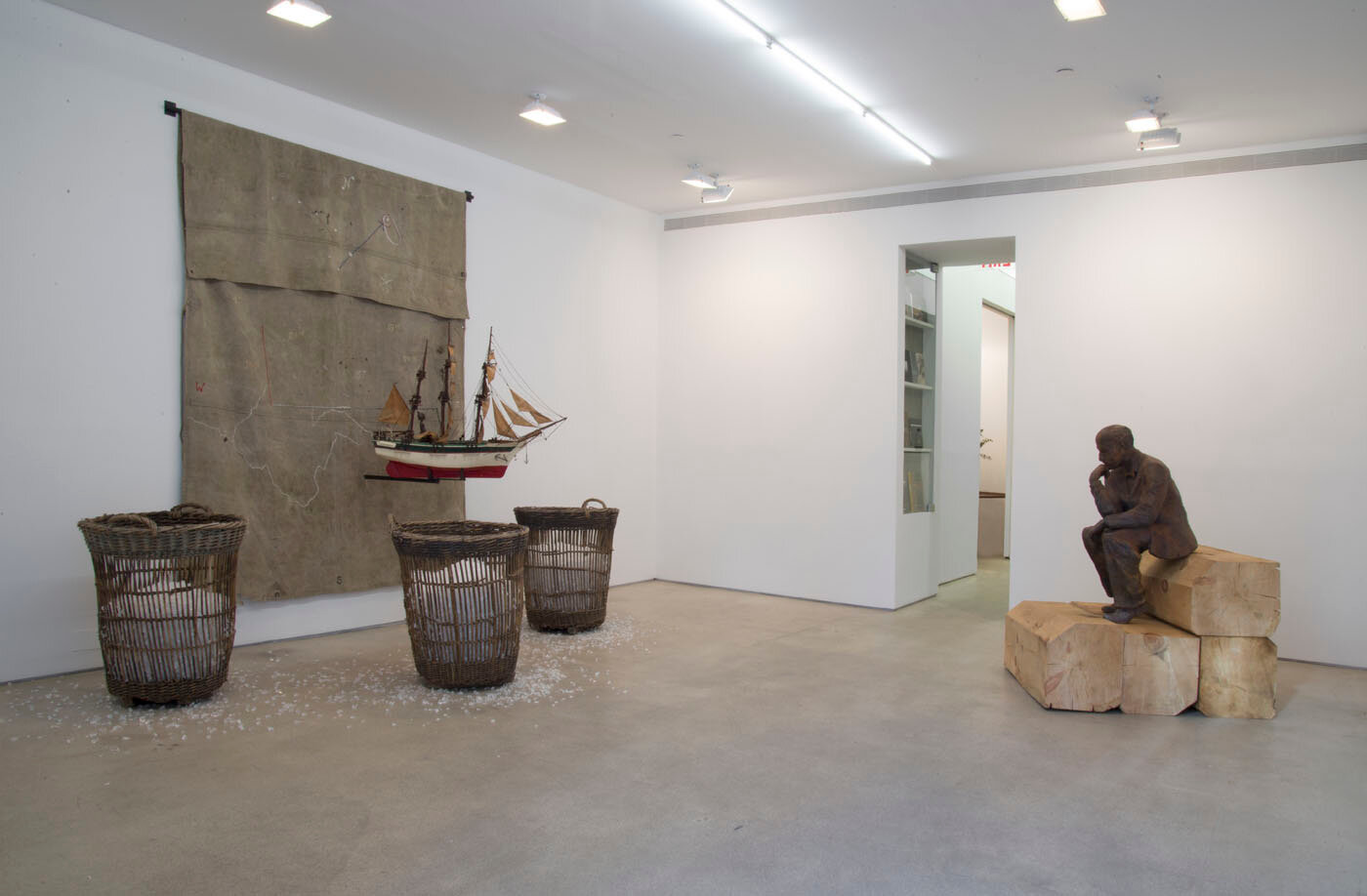 1/13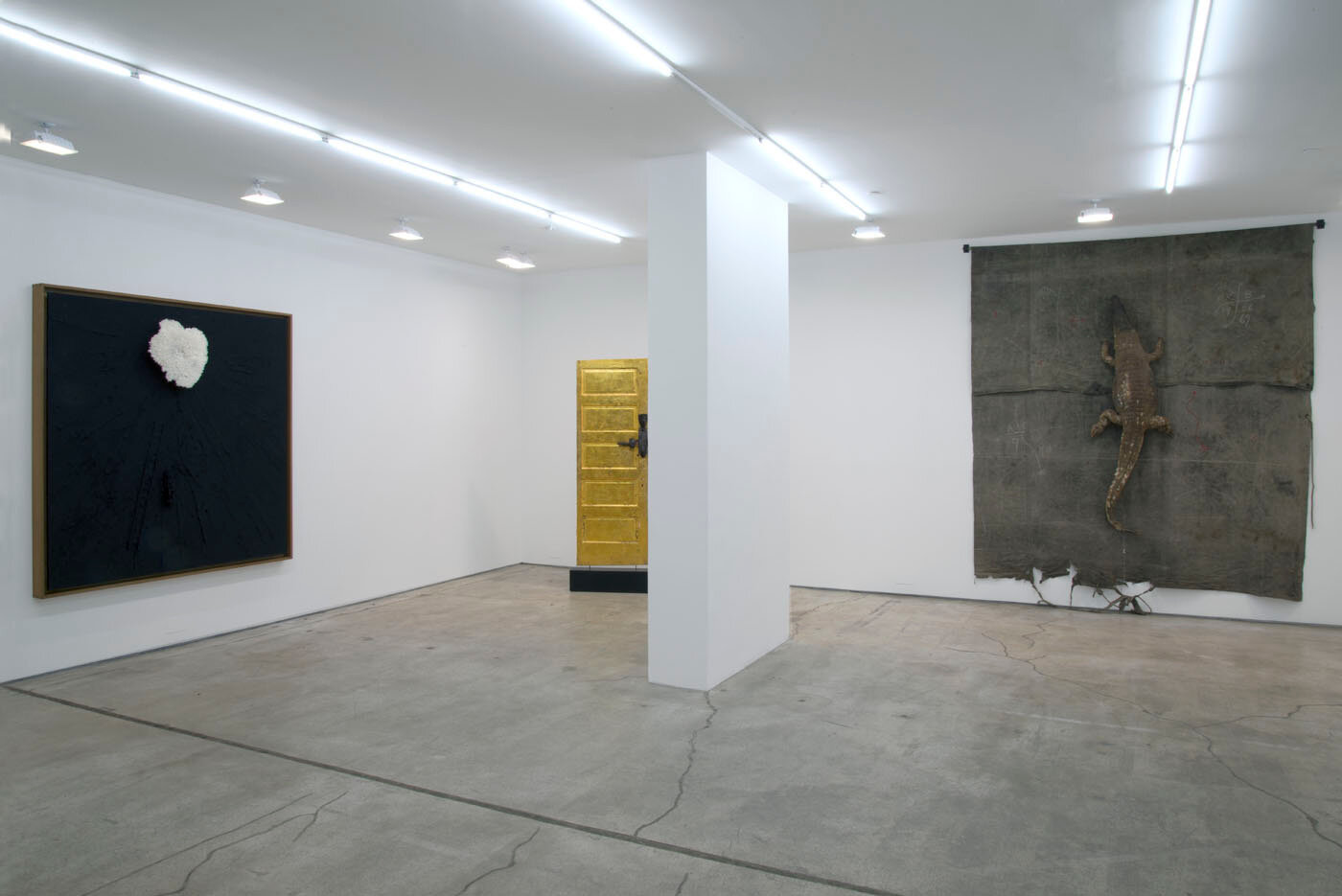 2/13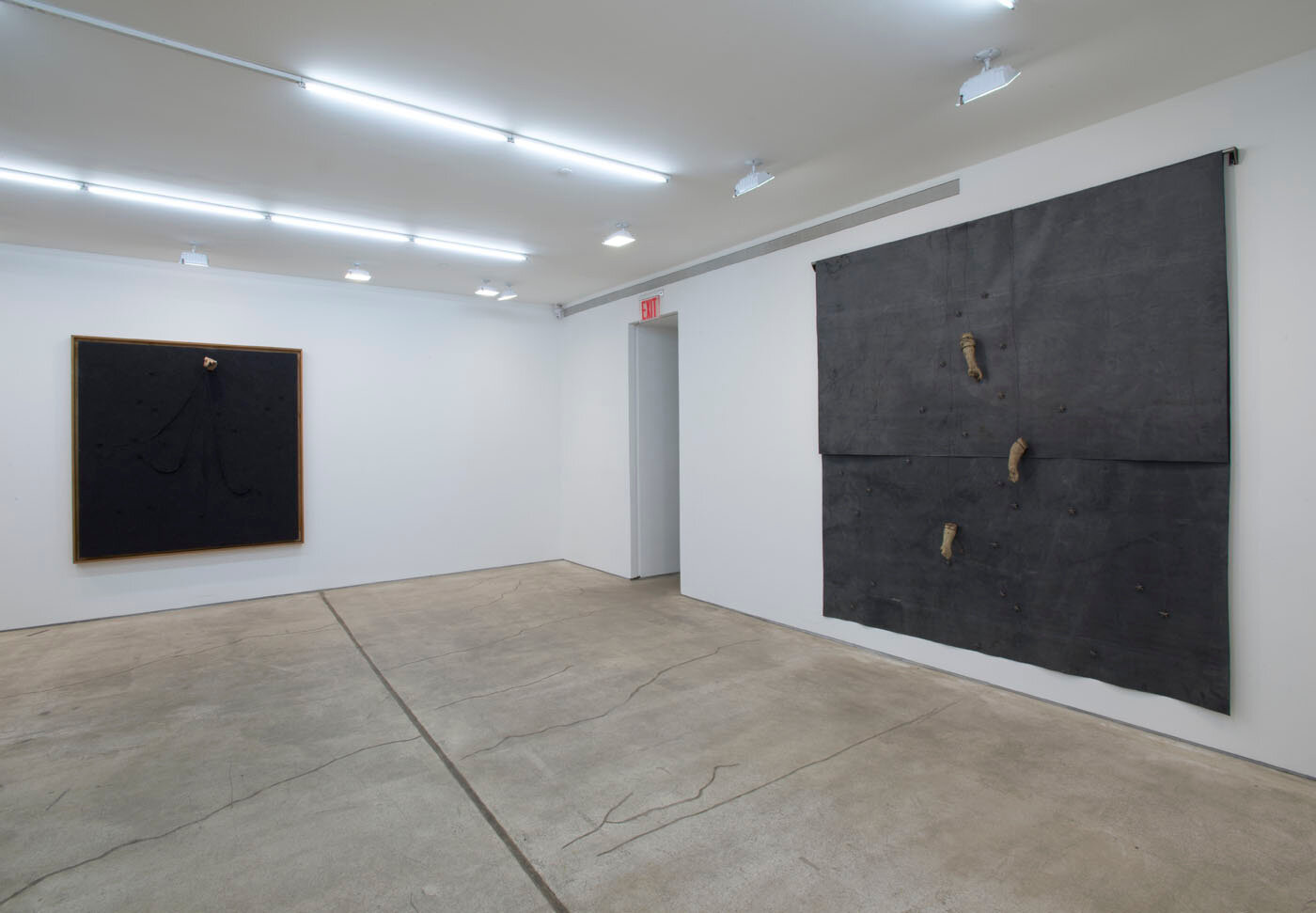 3/13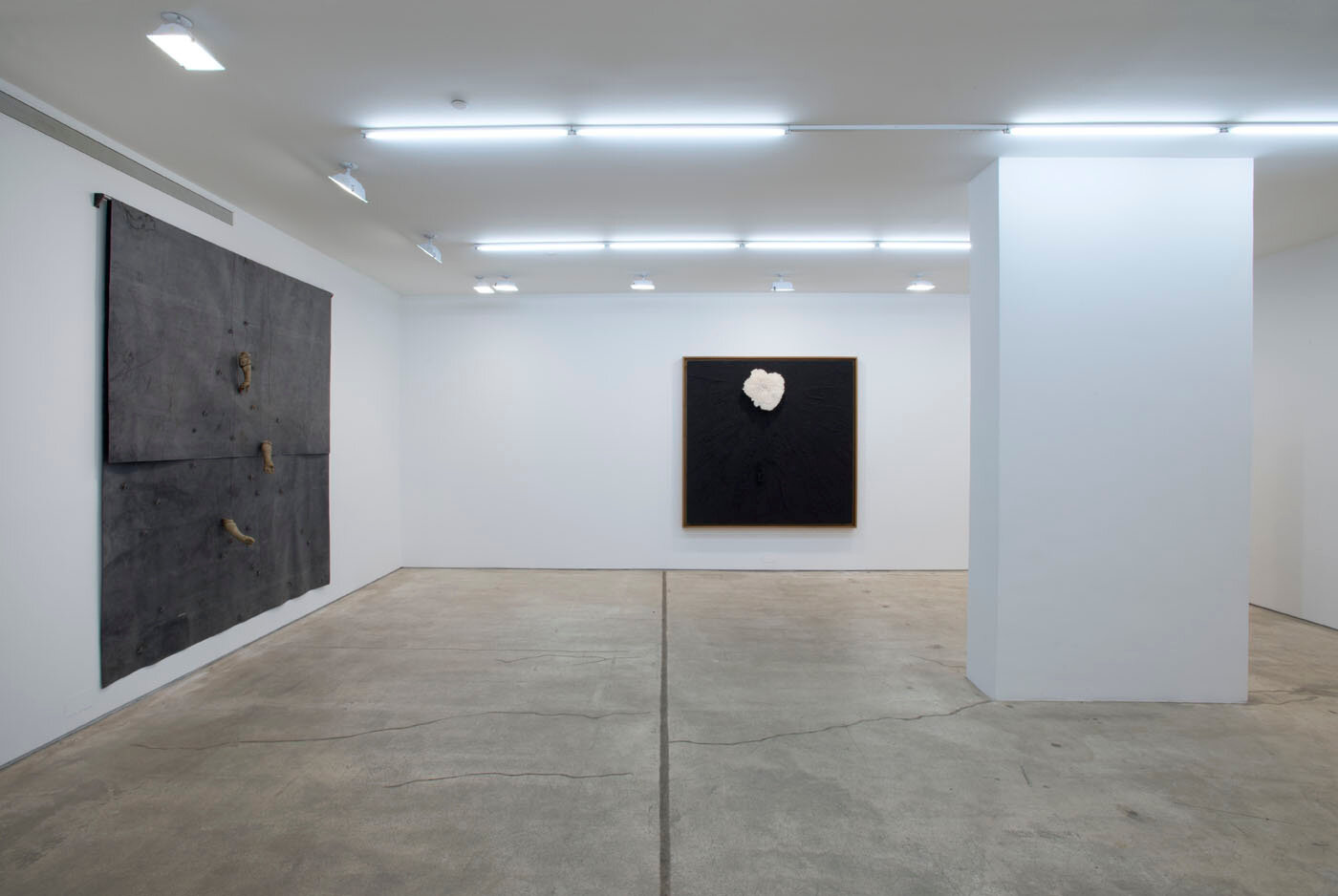 4/13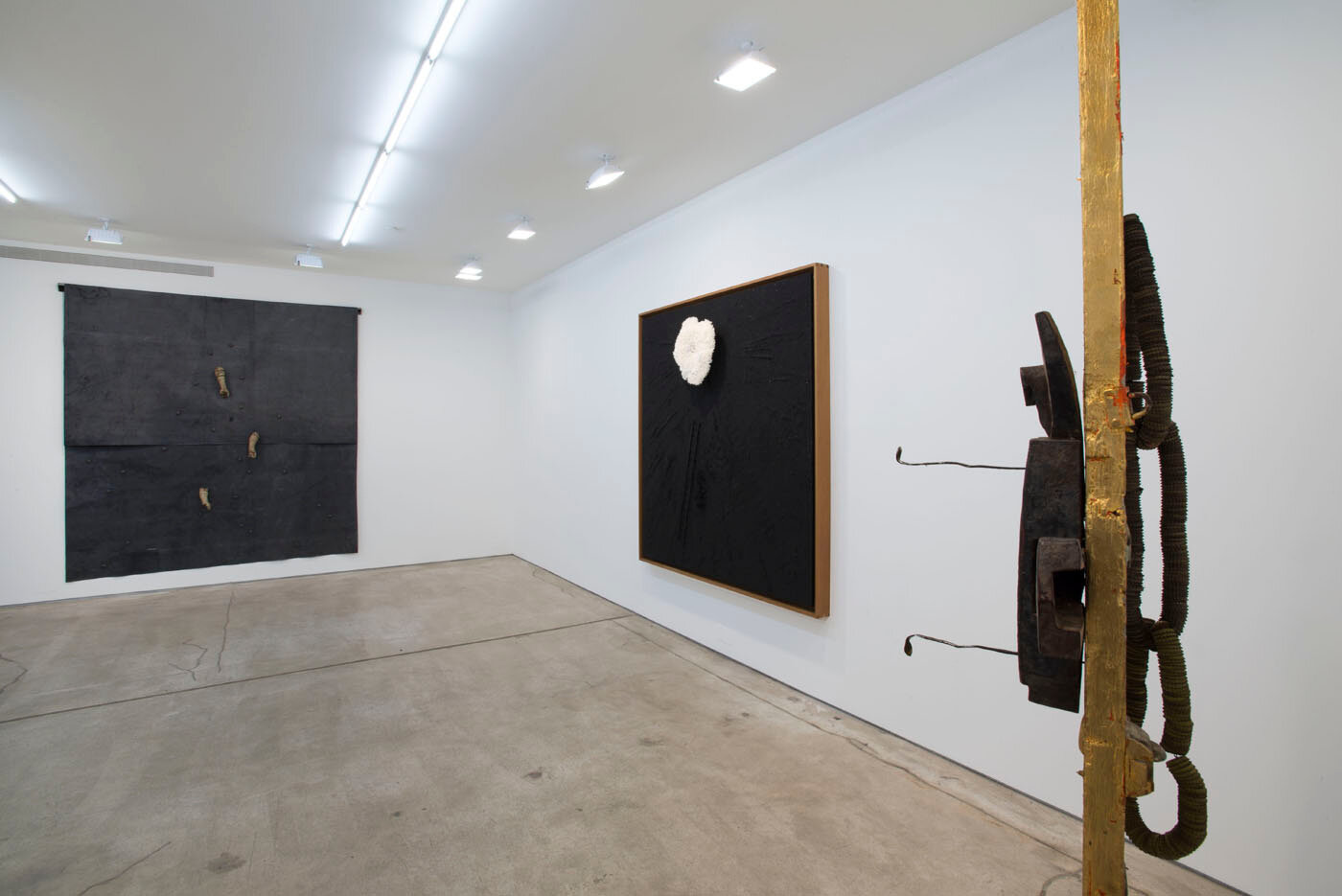 5/13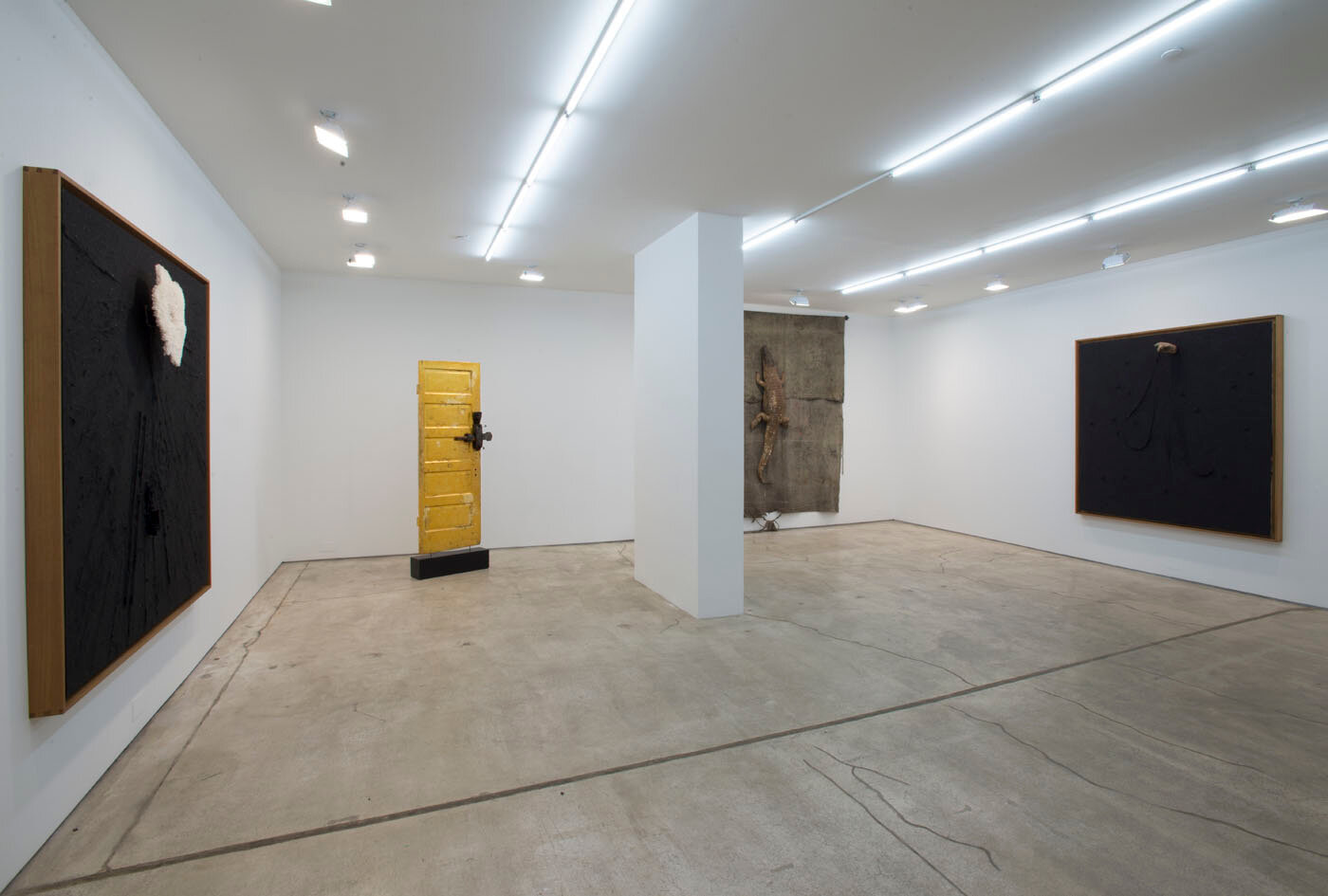 6/13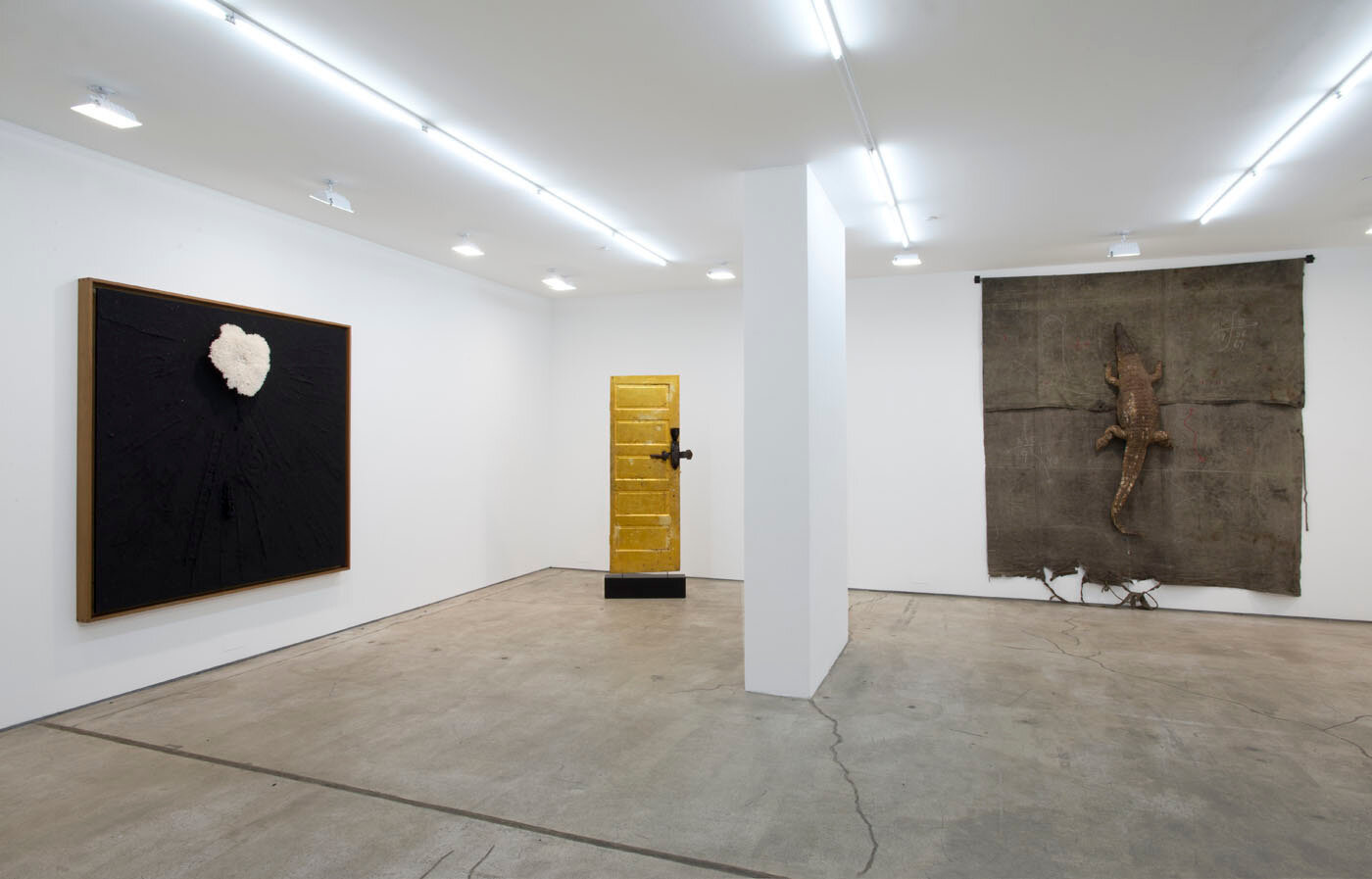 7/13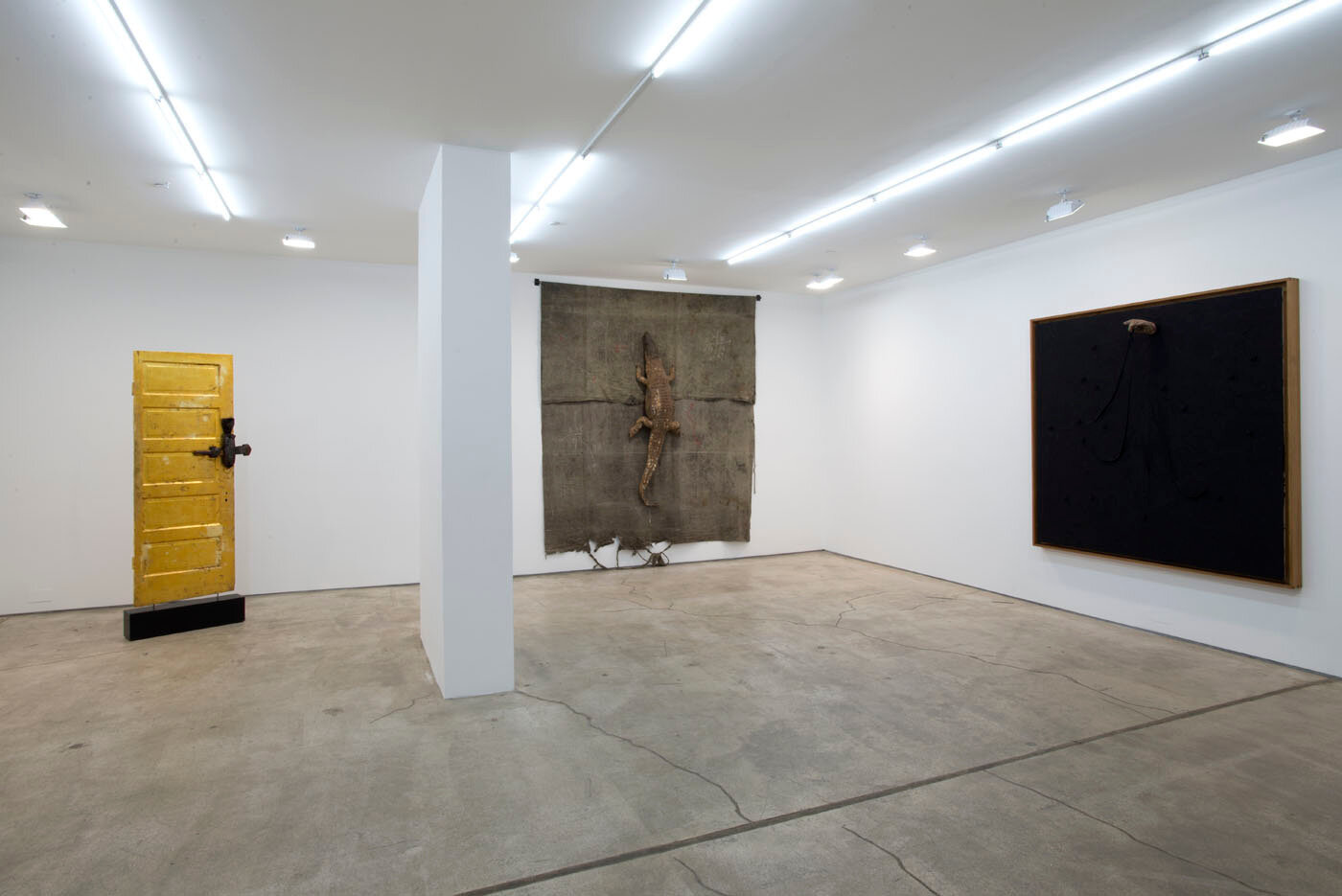 8/13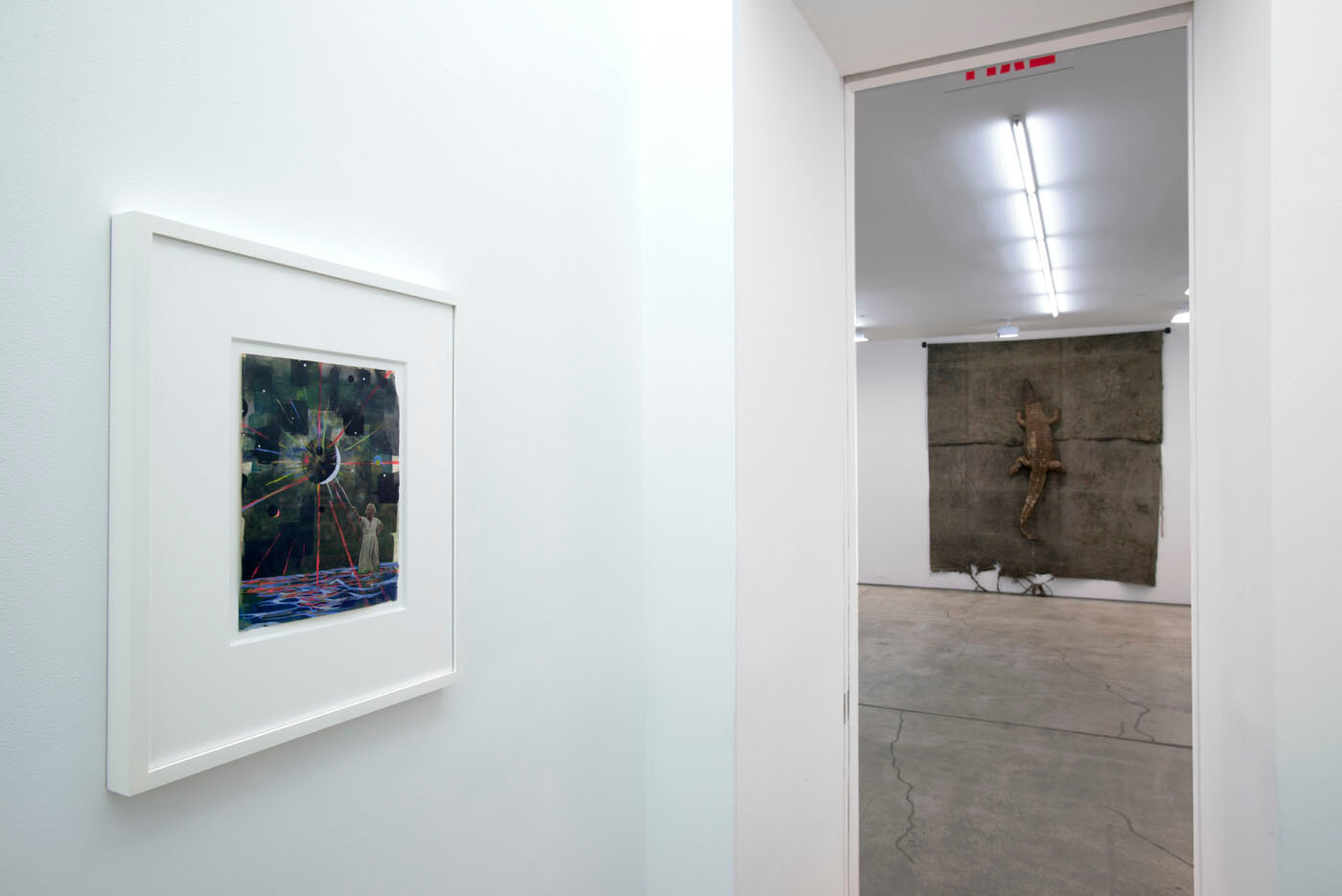 9/13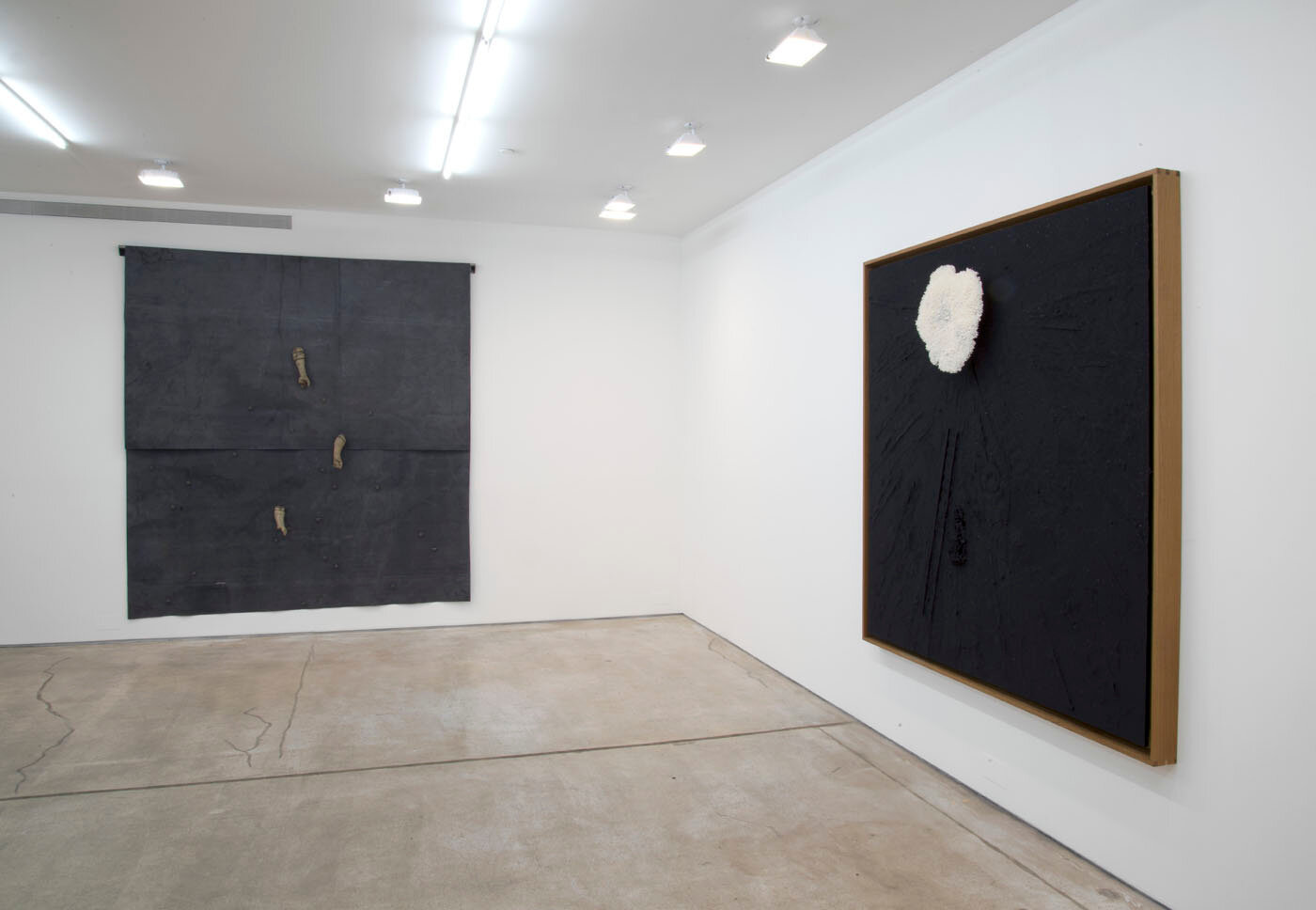 10/13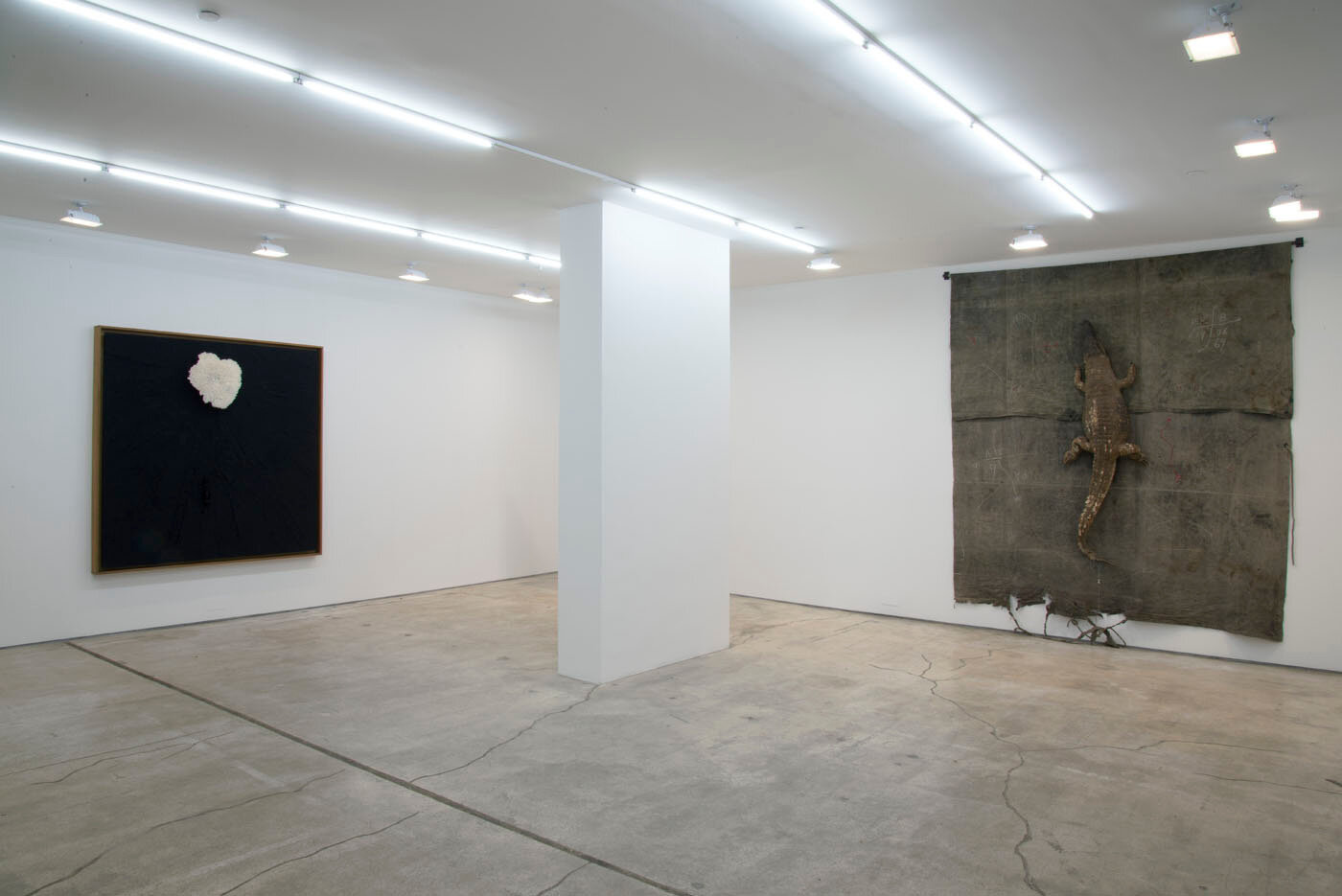 11/13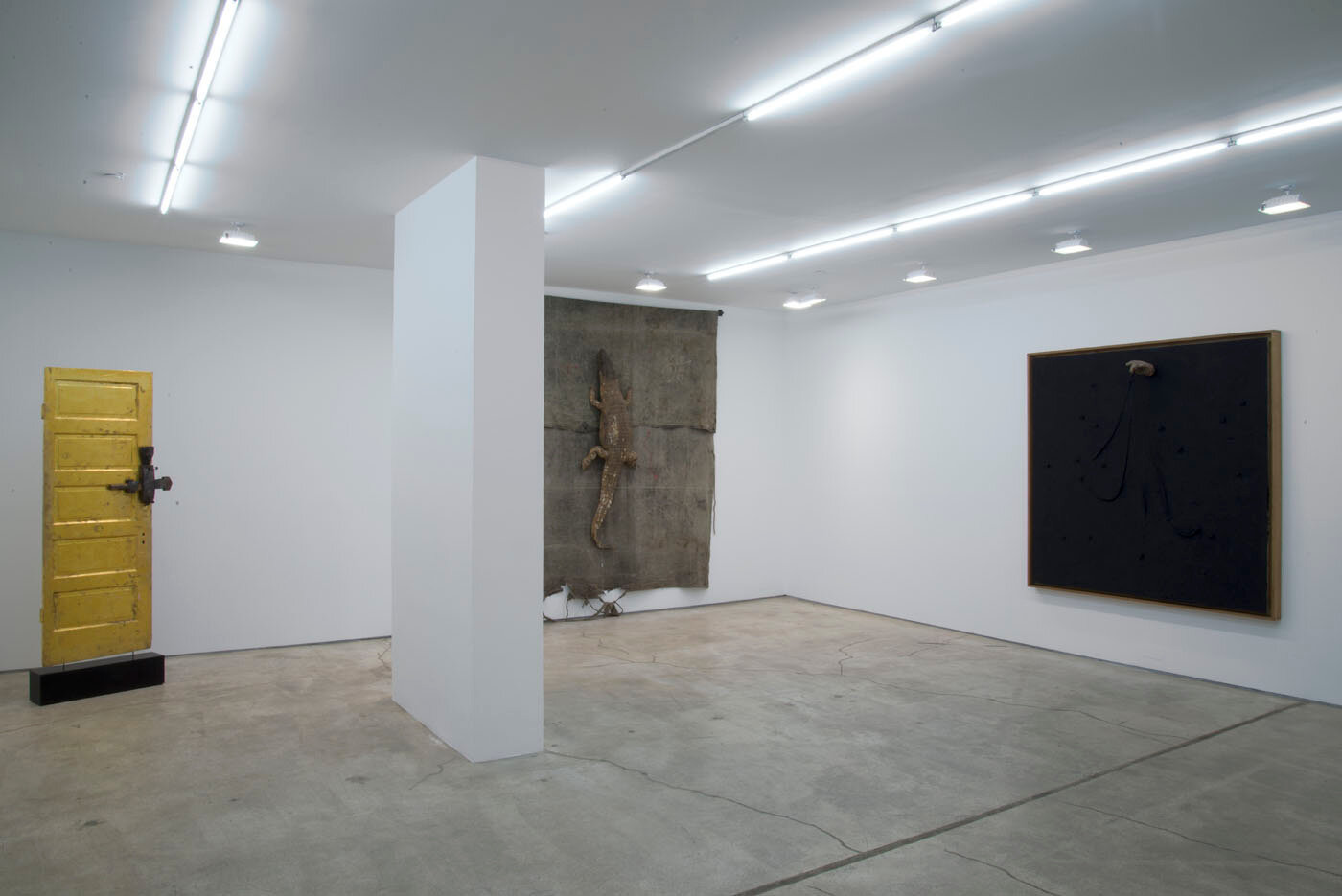 12/13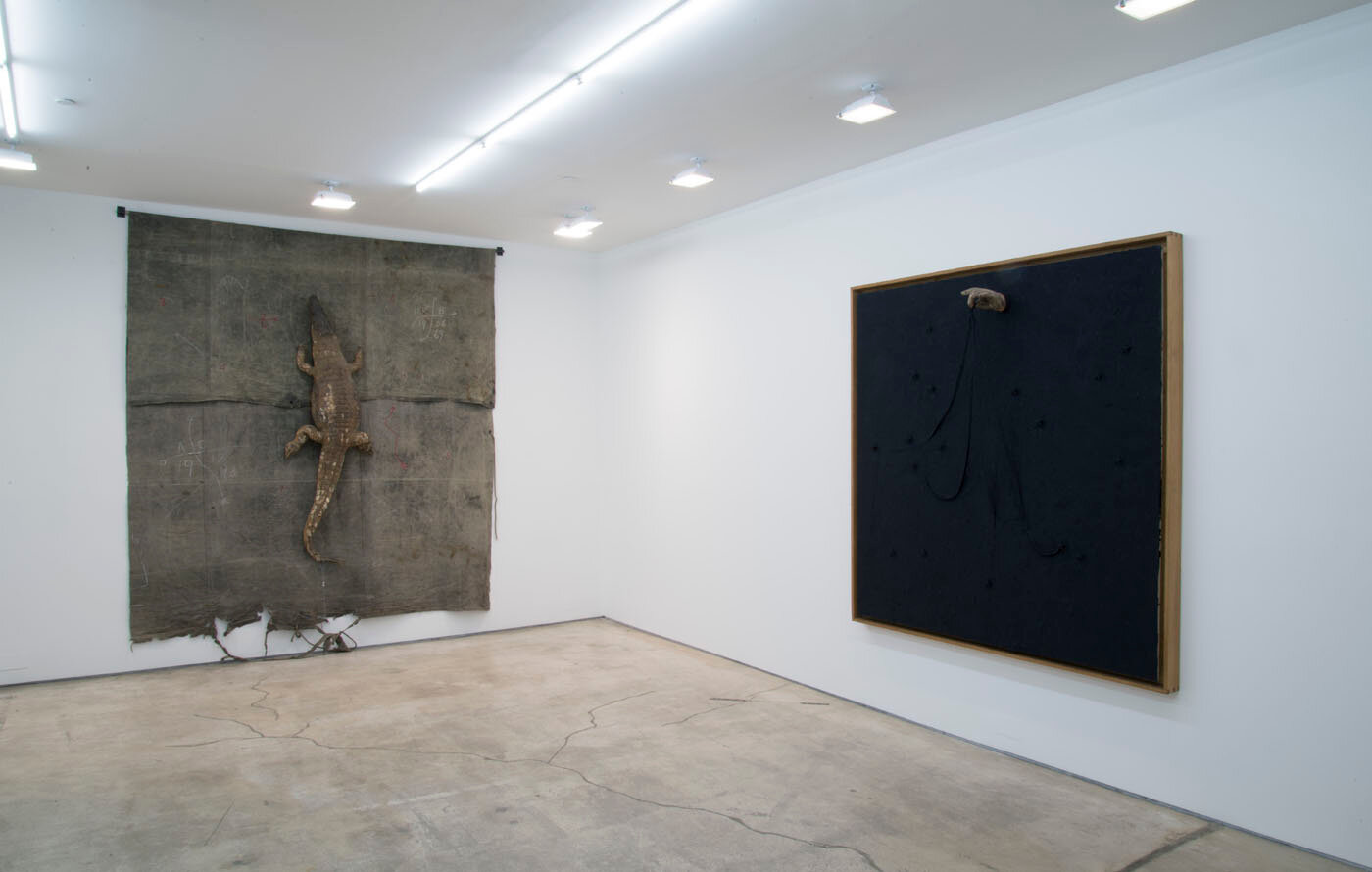 13/13
Dates
Jan 16 – Feb 15, 2014
Press Release
RADCLIFFE BAILEY
Maroons
January 16 – February 15, 2014
Opening reception: Thursday, January 16th, from 6 – 8 PM at 524 West 24th Street.Jack Shainman Gallery is pleased to announce Maroons, an exhibition of new works by Radcliffe Bailey. Bronze, steel, wood, rubber, paint, soil, glass and found objects are among the many materials Bailey employs in his multidisciplinary practice.
Moving primarily between the mediums of sculpture and painting, Bailey explores the complexity of history, memory and contemporary identity. Referencing the Maroon communities of escaped African slaves who traveled throughout the Americas to form free settlements as a means to probe diasporic displacement and migration, he builds material for new narratives and projections of the past.
In Clotilde, Bailey layers shapes and cutouts of ladders, train tracks, paddles and machetes under heavy coats of black sand, conjuring tools and symbols of resistance and movement. A spherical piece of coral marks the site of a heavy directional pull, at once making inference to the deep sea, specifically the Trans-Atlantic waters, land and the galactic expanse of a sparkling sky. Bailey uses the seductive beauty of the object as a point of entry into an entanglement of narratives.Pensive is a bronze sculpture of writer, scholar and activist W.E.B. Du Bois sitting on roughly cut blocks of wood in the position of Auguste Rodin's iconic work The Thinker. It is a meditation on "double consciousness," a term coined in the section titled "Of Our Spiritual Strivings" in Du Bois' seminal work, "The Souls of Black Folk," that describes a second sense of self that is seen through the eyes of others. Like a Blues musician, Bailey weaves together an amalgamation of the spiritual, cathartic, prophetic and devotional.
Bailey describes his process of working as a simultaneous exploration into the past, present and future. Using elegant formalism as a mechanism to address questions of social and historical concerns, he employs what Carol Thompson describes in "Memory as Medicine" as an aesthetic action with a poetic resonance.
Radcliffe Bailey lives and works in Atlanta, GA. A solo traveling exhibition of his work, Memory as Medicine, was exhibited at the High Museum of Art, Atlanta, GA (2011). It then traveled to the Davis Museum and Cultural Center, Wellesley College, Wellesley, MA; and the McNay Art Museum, San Antonio, TX. Other selected exhibitions include Du Bois In Our Time, University Museum of Contemporary Art, University of Massachusetts, Amherst (2013); Neo-HooDoo, organized by The Menil Collection, Houston, TX, at Miami Art Museum, Miami, FL (2009); and traveled to MoMA P.S.1, Long Island City, NY (2009); Radcliffe Bailey, Toledo Museum of Art, Toledo, OH (2007); and New/Now: Radcliffe Bailey, New Britain Museum of American Art, New Britain, CT (2004). Bailey's work is included in the collections of the Metropolitan Museum of Art, New York, NY; the Smithsonian Museum of American Art, Washington, D.C.; The Corcoran Gallery of Art, Washington, D.C.; the Museum of Fine Arts, Houston, TX; the Nelson-Atkins Museum of Art, Kansas City, MO; and the High Museum of Art, Atlanta, GA among others. Maroons will be Bailey's sixth solo show at the gallery.Pensive was commissioned by the University Museum of Contemporary Art Fine Arts Center University of Massachusetts for the 2013-2014 exhibition, Du Bois in Our Time.
Concurrently on view at 513 West 20th Street is Jackie Nickerson: Terrain from January 16th through February 15th.
Upcoming exhibitions at the gallery include Richard Mosse: The Enclave at 513 West 20th Street, which opens on February 22nd, and Leslie Wayne: Rags at 524 West 24th Street, which opens on February 20th. The opening receptions for both exhibitions will be on Saturday, February 22nd and they will both remain on view until Saturday, March 22nd.
Gallery hours are Tuesday through Saturday from 10am to 6pm. For additional information and photographic material please contact the gallery at info@jackshainman.com.
......................
EXHIBITIONS