Ever-After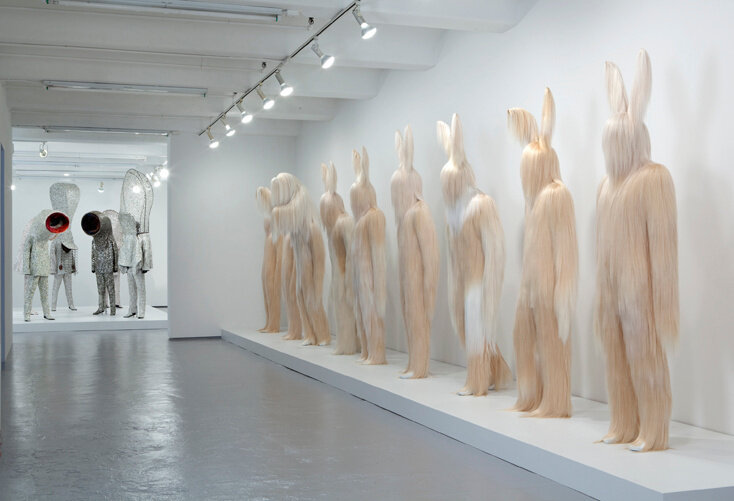 1/8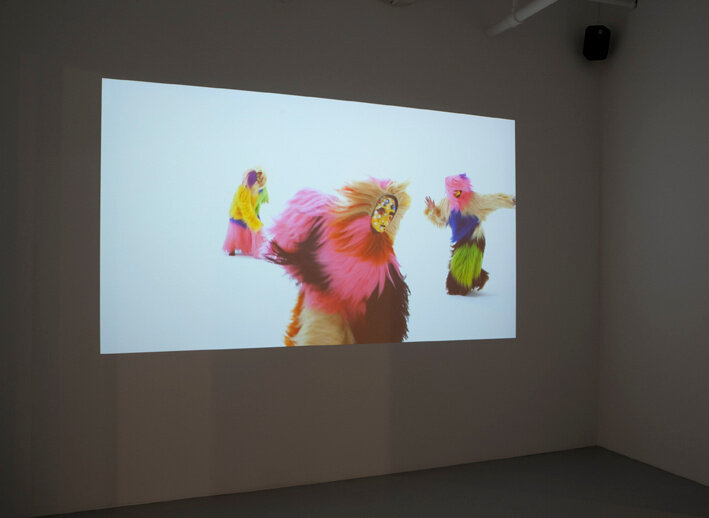 2/8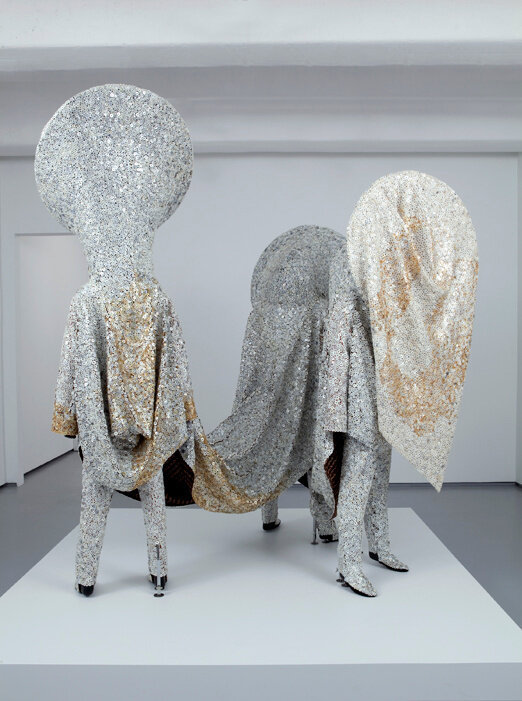 3/8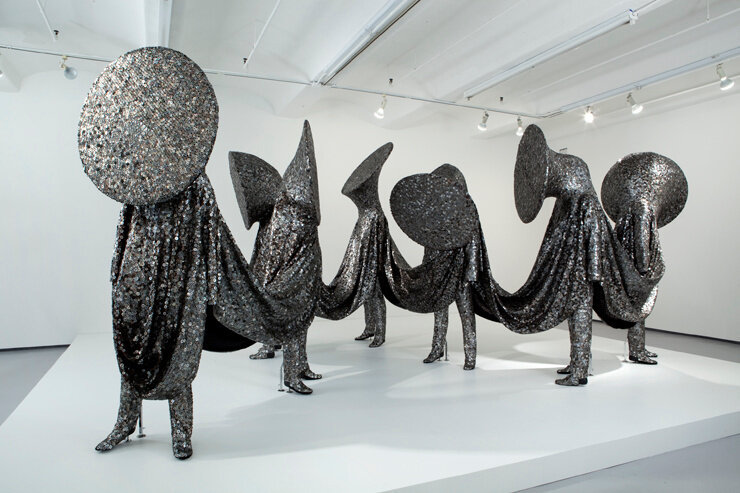 4/8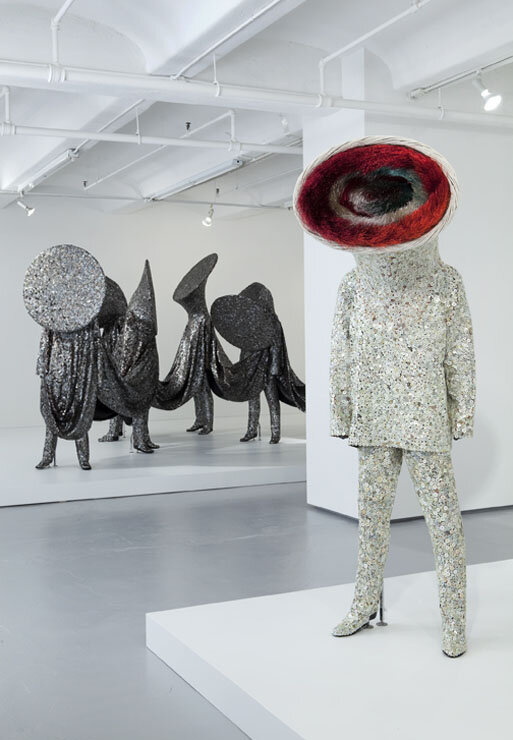 5/8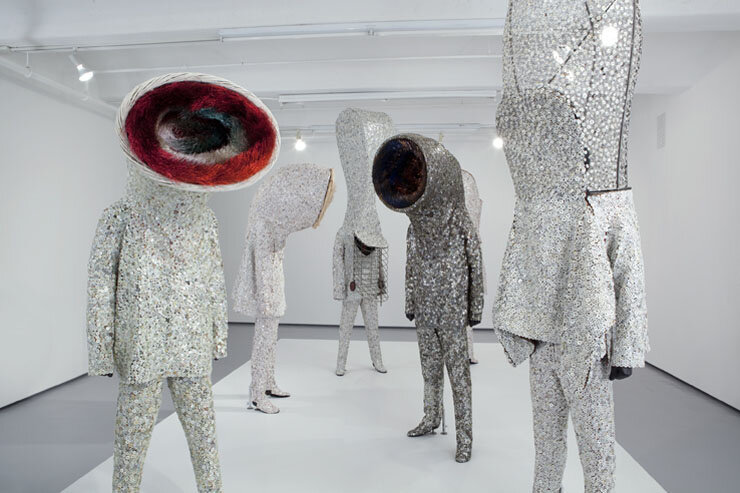 6/8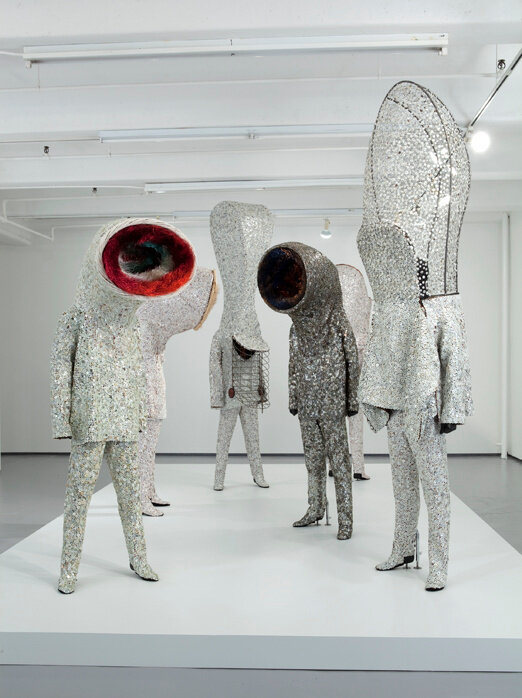 7/8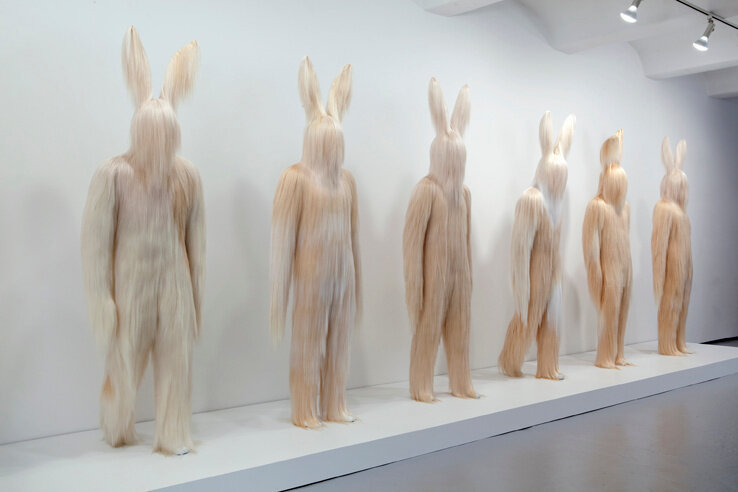 8/8
Dates
Sep 08 – Oct 08, 2011
Location
513 West 20th Street New York, NY 10011
Press Release
NICK CAVE
Ever-After
September 8 – October 8, 2011
In collaboration with Mary Boone Gallery
Opening reception for the artist at Jack Shainman Gallery: Thursday, September 8, from 6-8 PM
Opening reception for the artist at Mary Boone Gallery, Chelsea: Saturday, September 10, from 5-7 PM
Jack Shainman Gallery is pleased to announce Ever-After, a solo exhibition of new work by Nick Cave. Cave will present a group of 'Soundsuits.' This sculptural form based on the scale of the artist's body is at the core of Cave's practice. It camouflages the body, masking and creating a second skin that conceals race, gender, and class, forcing the viewer to look without judgment. However, Ever-After marks a noticeable shift in his approach. The 'Soundsuits' will interact within subtly narrative tableaux. These figurative landscapes connect the viewer to a social consciousness, summoning the echoes and voices which Cave believes have been paralyzed to silence and subjected to unfair altercations in an often hostile society.
'Mating Season' is an encounter of white-haired, boyish bunny figures suggesting a sublime play of fornication, placed in multiple positions. 'Speak Louder' comprises a group of figures that unite into one organism. Several of the figures gesture in a manner that reveals emotional references and together speaks of a multiplying figure that becomes an assemblage or a whole. The unifying surface of the piece is constructed from a surge of assorted black buttons. Each button offers the reflection of a memory, a thought, and the inheritance of personal identity. The accumulation of buttons invades a singular cloth producing a choir of voices. These tableaux will provoke new readings of Cave's work, which in the past has been constructed around the individual figure.
The cumulative effect will be a black and white interior psychological world probing consciousness, contemplation and deep exploration. There is an ephemeral quality that articulates both absence and a transcendent yet dependent spirit. Ultimately Cave strips down to the bare essence in this exhibition, turning his back on the noise as he chooses to walk into what he pictures as an abyss of serenity. This experience is inextricably linked to Cave's concurrent solo exhibition at Mary Boone Gallery, which is an open playground of 'Soundsuits' that celebrates exuberance, chaos, and color. The two exhibitions form one complete encounter.
A solo traveling exhibition of Cave's work entitled Meet Me at the Center of the Earth was organized by Yerba Buena Art Center, San Francisco, and was recently on view at the Seattle Art Museum. A major presentation of Cave's work will be on view at the Tri Postal, Lille, France, in Fall 2012.
Cave has recently been included in group exhibitions at institutions including the Museum of Contemporary Art, Chicago, 2011; Göteborgs Konsthall, Sweden, 2010; and Kunstmuseum Wolfsburg, Germany, 2011. He is also included in 30 Americans: Rubell Family Collection, which opens in October 2011 at the Corcoran Art Gallery in Washington, DC, and will be included in the Prospect.2 Biennial, taking place throughout New Orleans in Fall 2011.
Public collections include the Brooklyn Museum, New York; Crystal Bridges, Bentonville; the Detroit Institute of Arts, Detroit; the High Museum, Atlanta; the Hirshhorn Museum and Sculpture Garden, Washington, DC; the Museum of Art and Design, New York; the Museum of Contemporary Art, Chicago; the Norton Museum of Art, West Palm Beach; the San Francisco Museum of Modern Art, San Francisco; and the Seattle Art Museum, Seattle; among others.
Cave has received several prestigious awards including: the Joan Mitchell Foundation Award (2008), Artadia Award (2006), the Joyce Award (2006), Creative Capital Grants (2002, 2004 and 2005), and the Louis Comfort Tiffany Foundation Award (2001). Cave, who received his MFA at the Cranbrook Academy of Art, is Professor and Chairman of the Fashion Department at the School of the Art Institute of Chicago.
Upcoming exhibitions at the gallery include Anton Kannemeyer, opening October 13, 2011.
Gallery hours are Tuesday through Saturday from 10 am to 6 pm. For additional information and photographic material please contact Elisabeth Sann at Elisabeth@jackshainman.com.