Carrie Mae Weems: Down Here Below
CARRIE MAE WEEMS: DOWN HERE BELOW
JANUARY 13 – FEBRUARY 19, 2022
513 W 20TH ST, NEW YORK, NY
Drawing from new works and select early series, Down Here Below includes several large-scale installations that highlight Weems's decades-long engagement with injustice, identity, and cultural memory. Activism is central to Weems' practice, which investigates race, family relationships, sexism, class, political systems, and the consequences of power. Through her complex body of work, Weems demands our reconsideration of predominant narratives throughout history and questions where we are headed. 
"The artist traces our current national predicament, with ever-present anti-Blackness and eroding democracy foremost among many woes, while reminding us that what we're seeing in our political landscape is nothing new. In fact, she's been telling us about it for decades."
– The New York Times, Aruna D'Souza, "Carrie Mae Weems Sets the Stage and Urges Action" (Dec 6, 2021)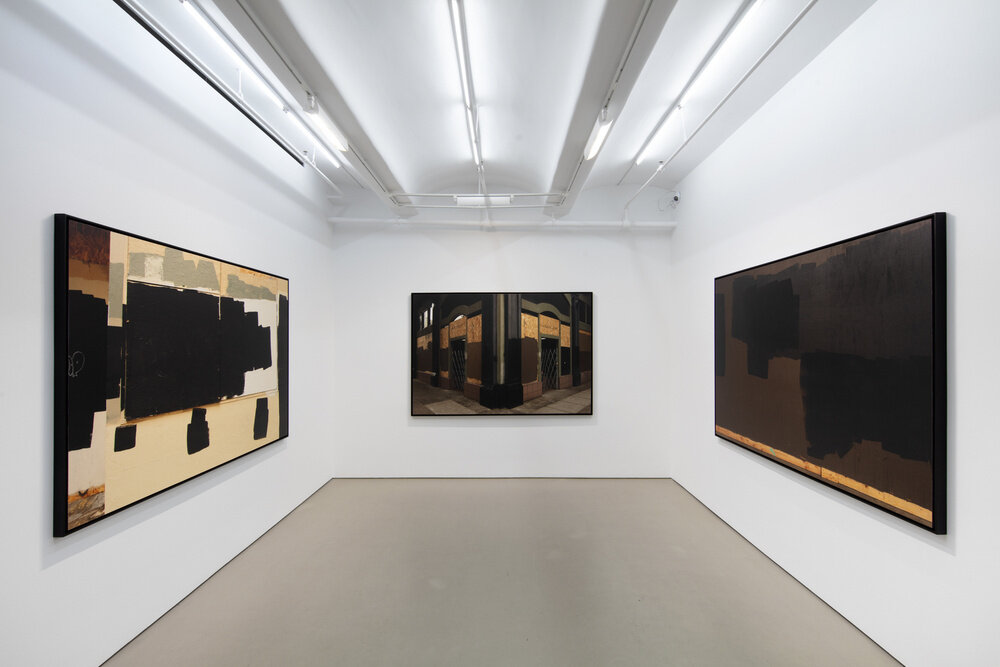 Captured in Portland, Oregon, in the wake of mass Black Lives Matter protests last year, these new works present boarded up storefronts during a time when many cities were shuttered and businesses closed. Despite their immediate historical moment, the nearly abstract images could be without time or place, offering a haunting environment that makes visible our pain, fear, and grief during a year of widespread loss.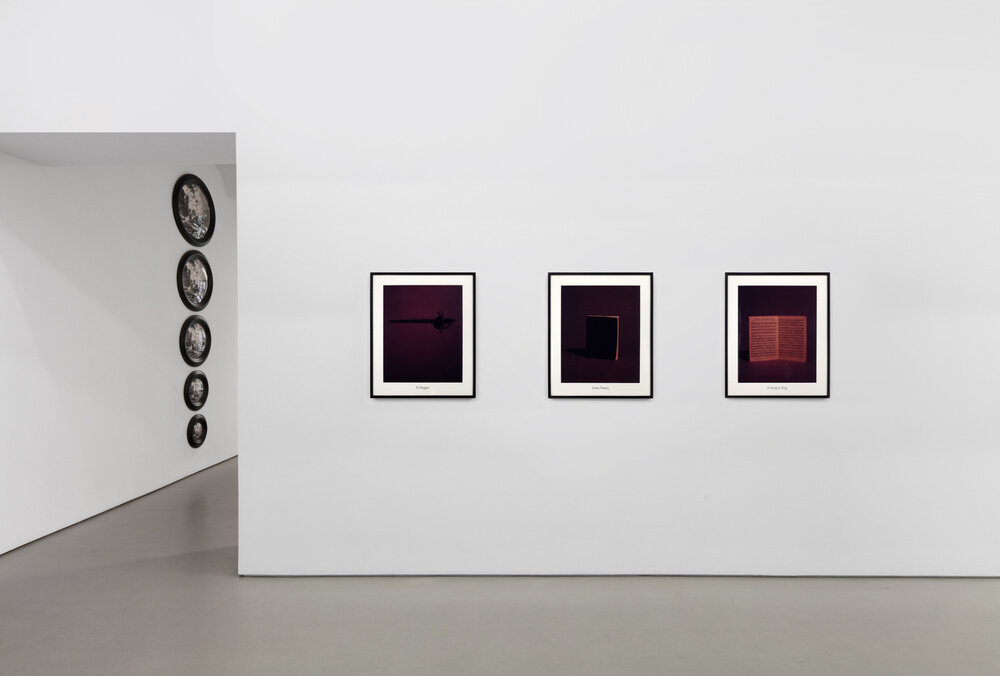 First exhibited in 1991 at the New Museum, New York, this seminal installation includes fifteen unique large-format Polaroids, each presenting a quotidien but evocative subject—a water glass, a globe, a rolling pin, a sickle—captioned with short phrases to create a narrative flow. Together, the works offer various tools and conditions that address themselves to revolutionary change and collective action.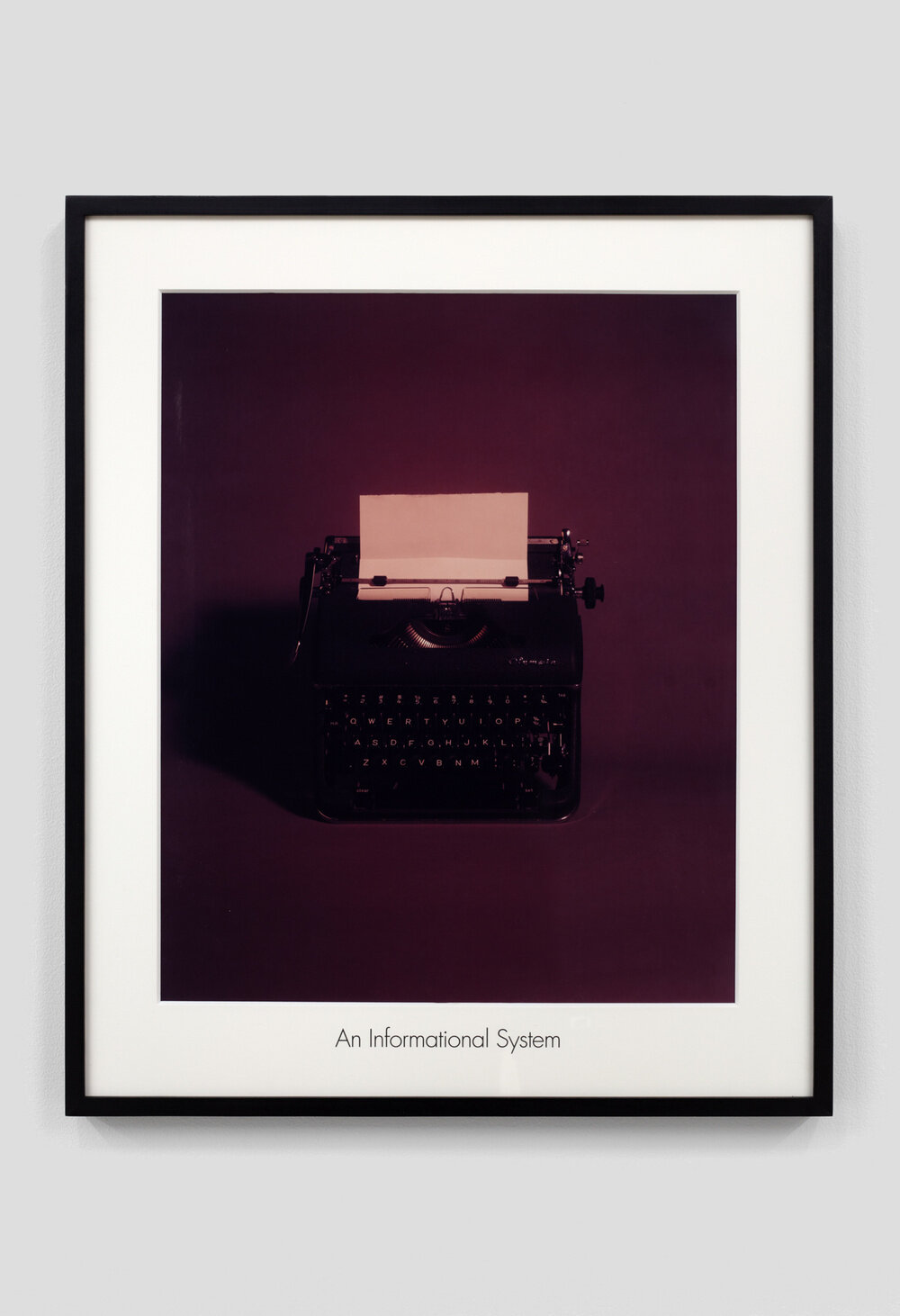 Across each photographic image, a short text appears, a "caption" that plays with the device of captioning to add depth as well as the texture of diversity, both tonal and referential, to the range of associations. An old manual typewriter, with blank paper rolled in and ready, is somewhat anachronistically labelled "An Informational System," and points to Weems' own methodology here - from a limited set of symbols, an array of meanings waits to be generated. It also indicates ideas of handmade revolution, of the efficacy of individual actions within a monolithic system, and of the possibility of individual actions linking up with others in a larger struggle, that are the installation's main themes.
Laura Trippi, "…And 22 Million Very Tired And Very Angry People" (New York: New Museum of Contemporary Art, 1991)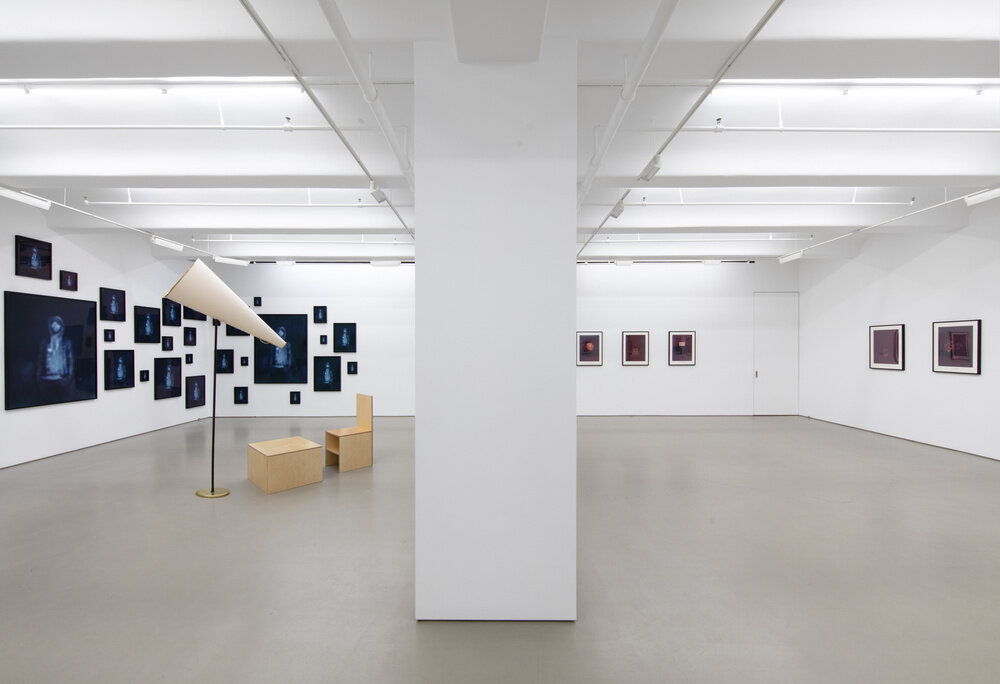 In Repeating the Obvious, Weems looks at the ways criminality is inscribed upon the Black body and the implications of the seemingly endless murders of Black people by police in the context of the Black Lives Matter movement. The repeated figure appears almost dream-like, emerging from our collective memory, and the redundancy of the image powerfully articulates the ongoing racial violence and depersonalization of its victims.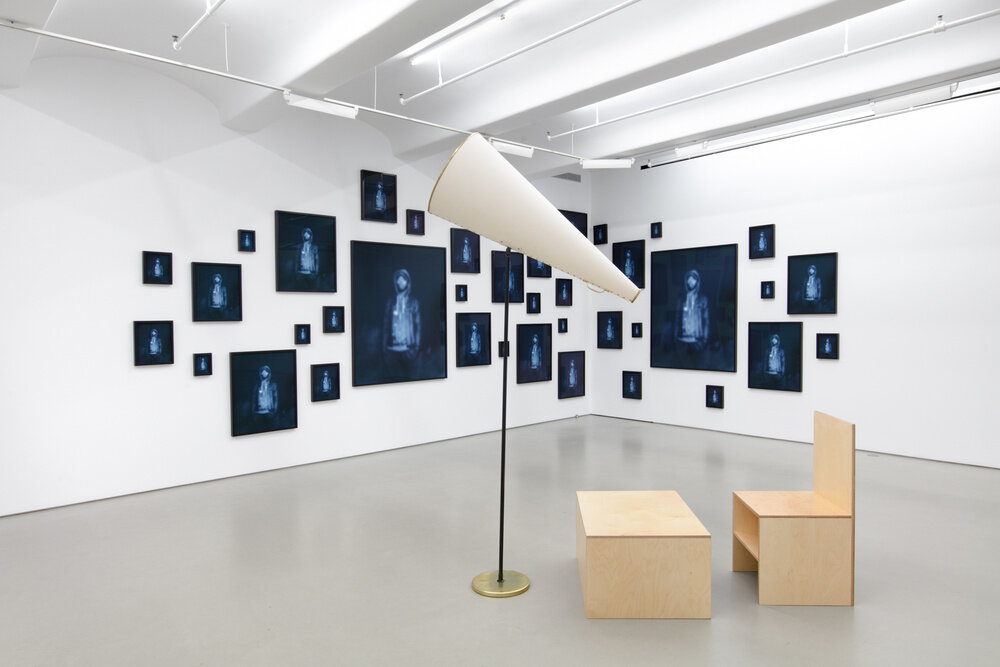 I asked another friend what it's like being the mother of a black son. "The condition of black life is one of mourning," she said bluntly. For her, mourning lived in real time inside her and her son's reality. 
Regardless of the wishes of these mothers – mothers of men like [Michael] Brown, John Crawford III, or Eric Garner, and also mothers of women and girls like Reykia Boyd and Aiyana Stanley-Jones, each of whom was killed by the police – their children's deaths will remain within the public discourse. 
For those who believe the same behaviour that got them killed, would, if exhibited by a white man or boy, not have ended his life, the subsequent failure to indict or convict the police officers involved in these various cases requires that public mourning continue and remain present indefinitely.
Claudia Rankine, "The Condition of Black Life Is One of Mourning", in Grief and Grievance: Art and Mourning in America.
The artist's Blues and Pinks works are components of a larger installation, The Push, The Call, The Scream, The Dream (2020), versions of which were recently shown at the Logan Center for the Arts at the University of Chicago and Artes Mundi 9 in Cardiff, Wales, first created in response to the death of civil rights leader and the United States Representative John Lewis. A master of recontextualization and appropriation, Weems references her own earlier works and uses archival images including Charles Moore's historic photographs of violent anti-segregation protests in Birmingham, Alabama in 1963 and iconic photographs from the funerals of Medgar Evers and Martin Luther King Jr. – both events of mass outrage and deep mourning. The works, some tinted in pink and blue, evoke a sense of tenderness and care and draw a throughline from the past to our present moment.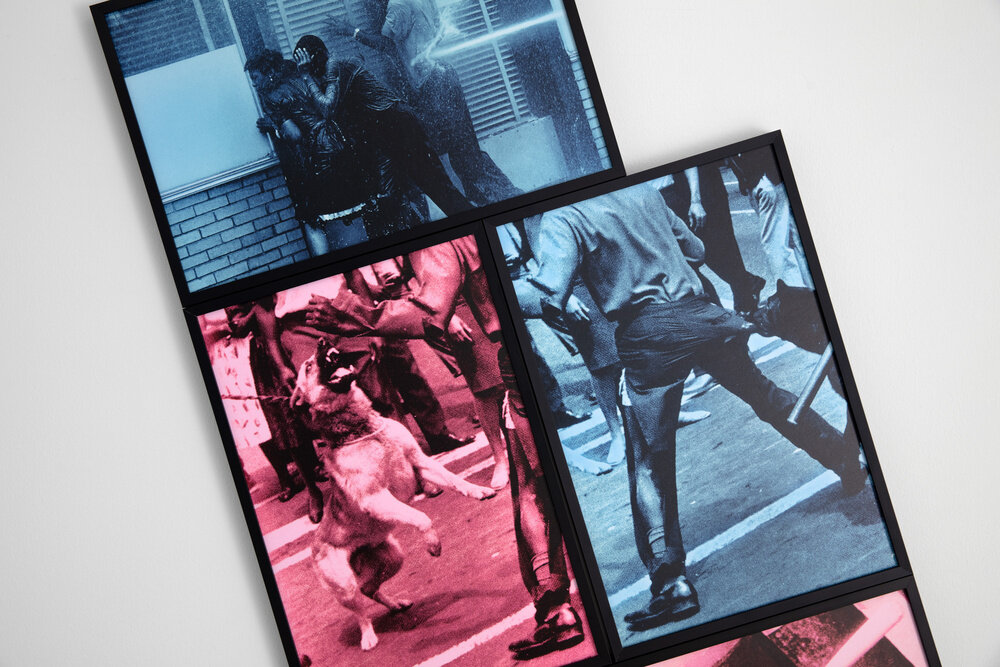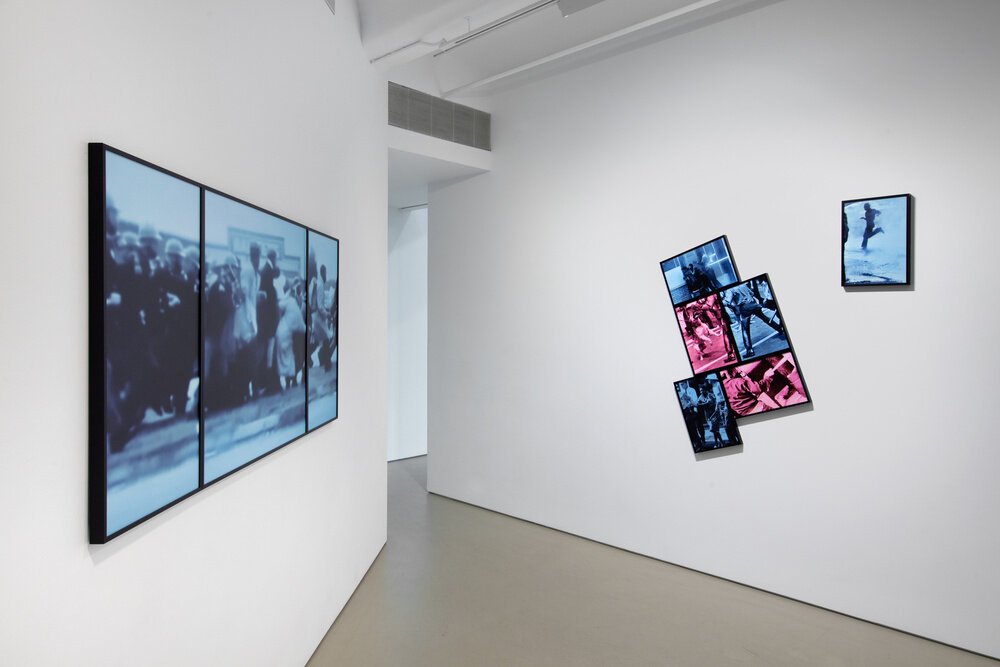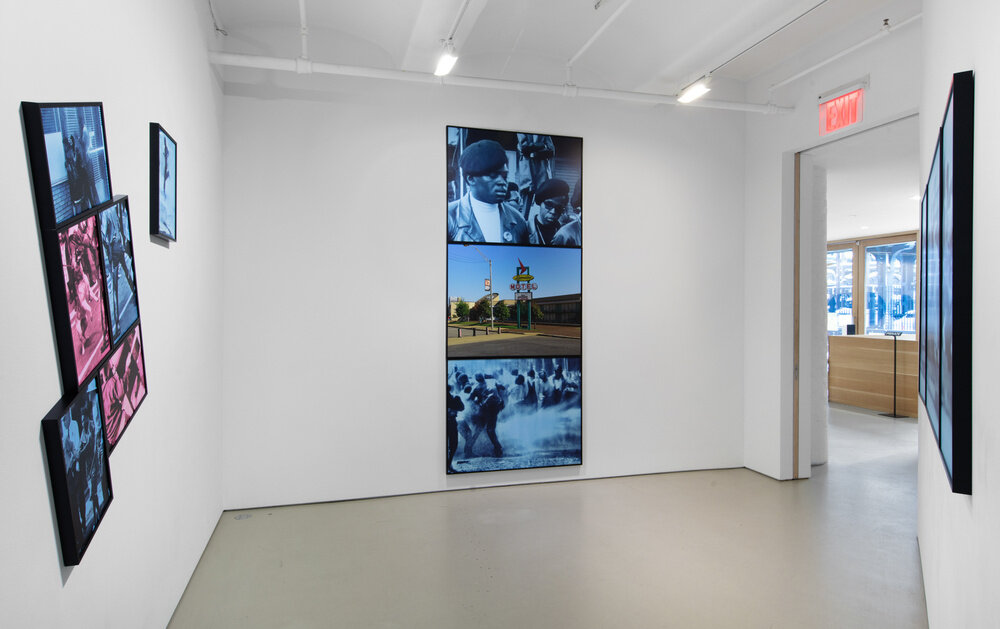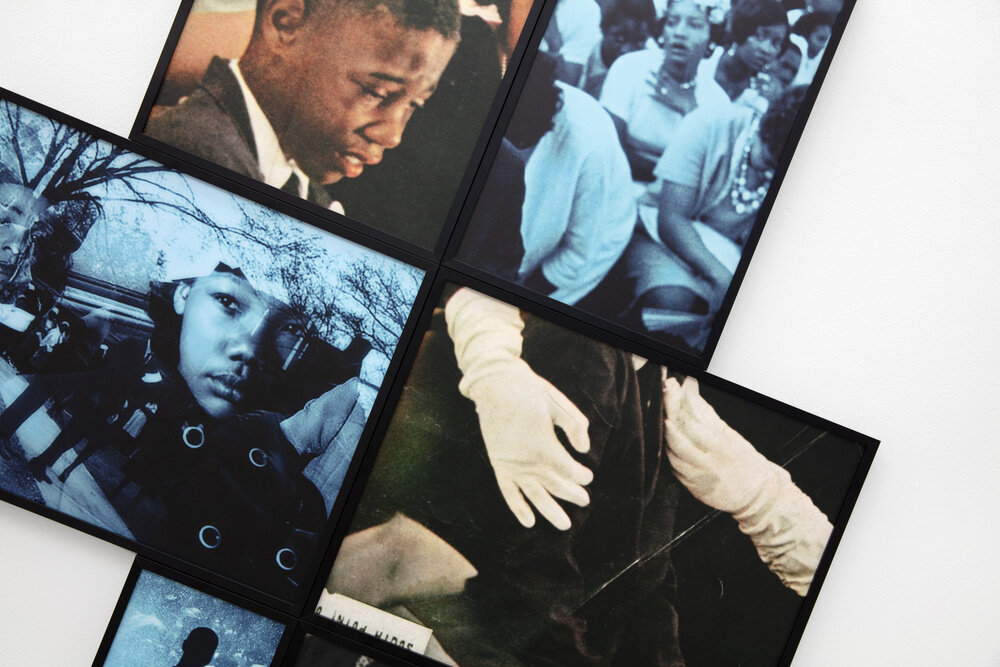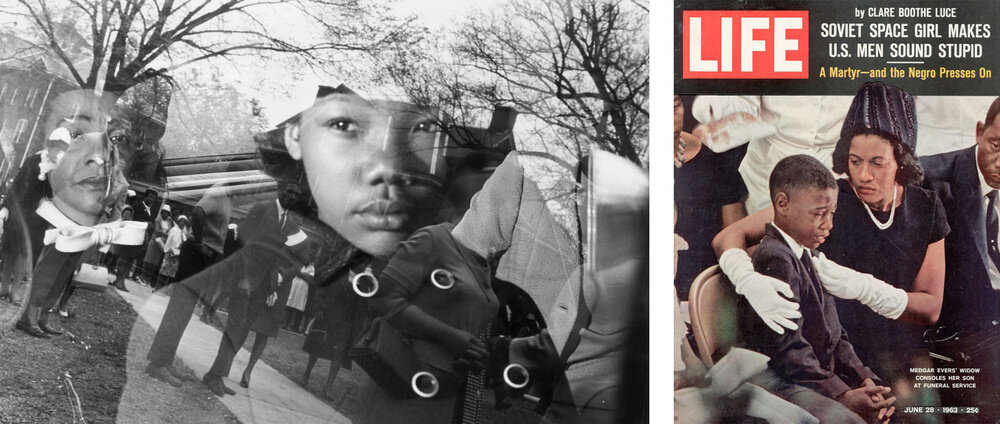 "Appropriation is sometimes an act of stealing, sometimes it's an inspiration and sometimes its a comparison and contract, sometimes it's a negotiation. Sometimes its a marriage with a singular idea coming together to form a new idea." - Carrie Mae Weems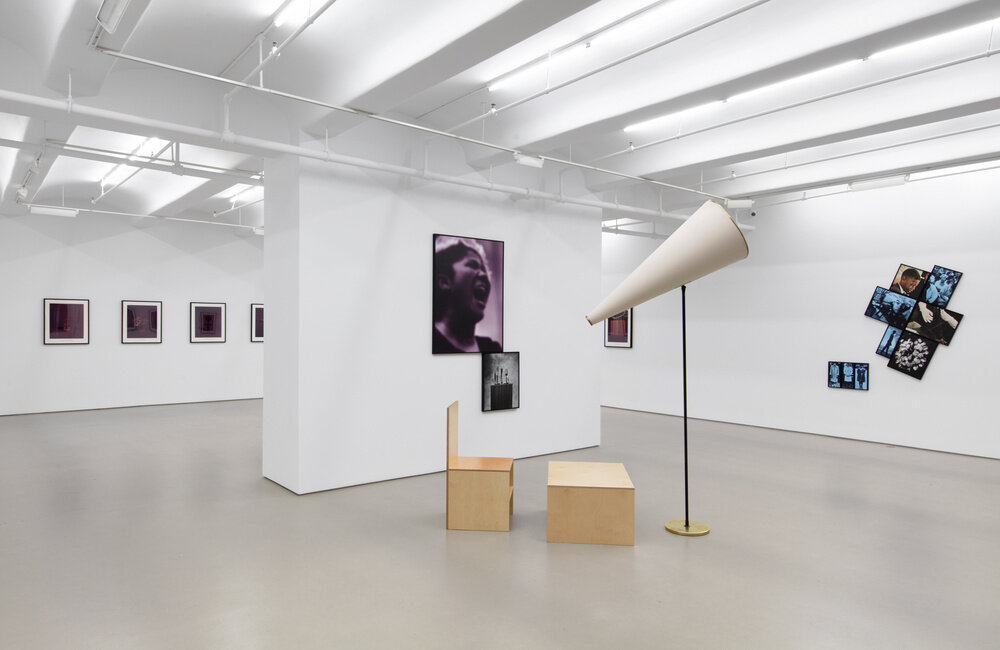 Seat or Stand And Speak, created for Weems's major exhibition at the Park Avenue Armory in December 2021, demands the viewer to listen or take action—to contemplate or effect change. Centered in the space, the sculpture stands as an invitation to find one's own voice and be heard, while, in its silence, it highlights our collective passivity.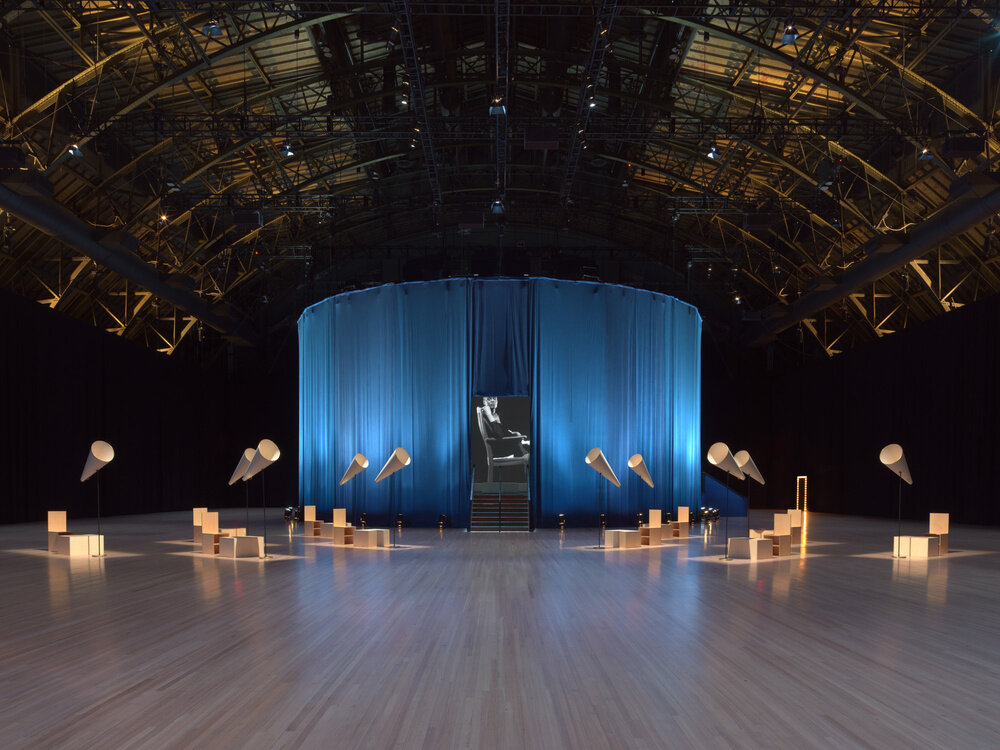 "I am excited by this moment, I'm also a little terrified by the moment," Weems said. "...right now we're kind of swimming in the dark, just trying to figure out one day at a time how to move this ball up the hill without completely understanding how steep the hill is."
– in Robin Pogrebin for The New York Times, "The World Catches Up To Carrie Mae Weems" (December 1, 2021)