Barkley L. Hendricks: In The Paint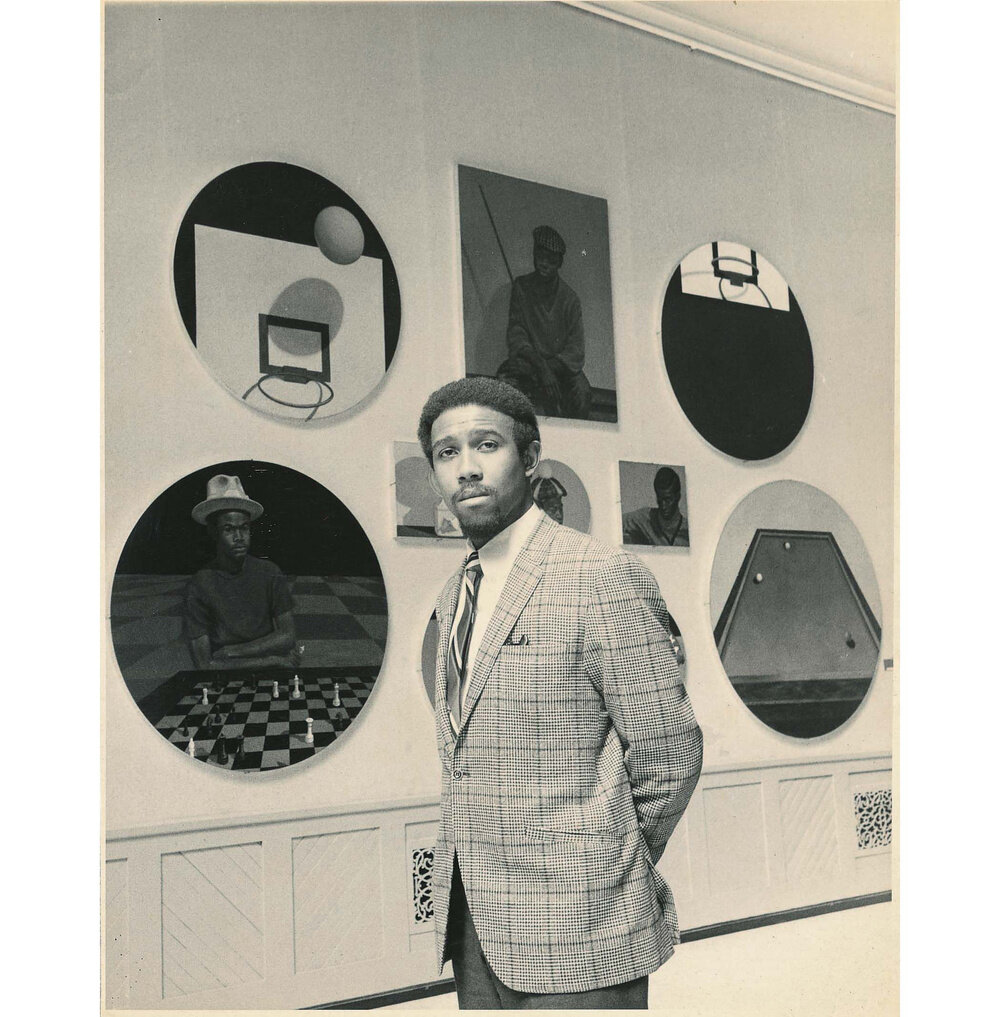 "Hendricks's embrace of two very different styles offers insight into the proverbial black painter's burden of representation versus abstraction."                
                    – Franklin Sirmans, "Barkley Hendricks: Ordinary People" in Birth of the Cool

In the Paint presents Barkley L. Hendricks's rarely exhibited basketball paintings, related photography, works on paper, and personal sketchbooks. A relatively unexamined area of his practice, this body of work is an exploration and interpretation of abstraction from the perspective of an artist deeply interested in his social community and representing the idea of Blackness.
Created in the late 1960s and early 1970s between his years as a student at Pennsylvania Academy of the Fine Arts and Yale University, the paintings are a formative study of minimalism - an investigation of color, line, and geometry, based in the shapes of basketball and inspired by Hendricks' own love of the sport. During this period, Hendricks was employed with the Philadelphia Department of Recreation as an arts and crafts specialist, where he would create compositions while observing the basketball courts and players directly outside his window.
Recognized for his pioneering contributions to conceptualism and portraiture, Hendricks is best known for his striking oil paintings of contemporary black Americans, and his influential, radical "black cool" images have been a cornerstone for subsequent generations of artists. Seen together, these basketball works both challenge and complement Hendricks's celebrated position as a figurative painter and reveal an integral part of his complex, singular career.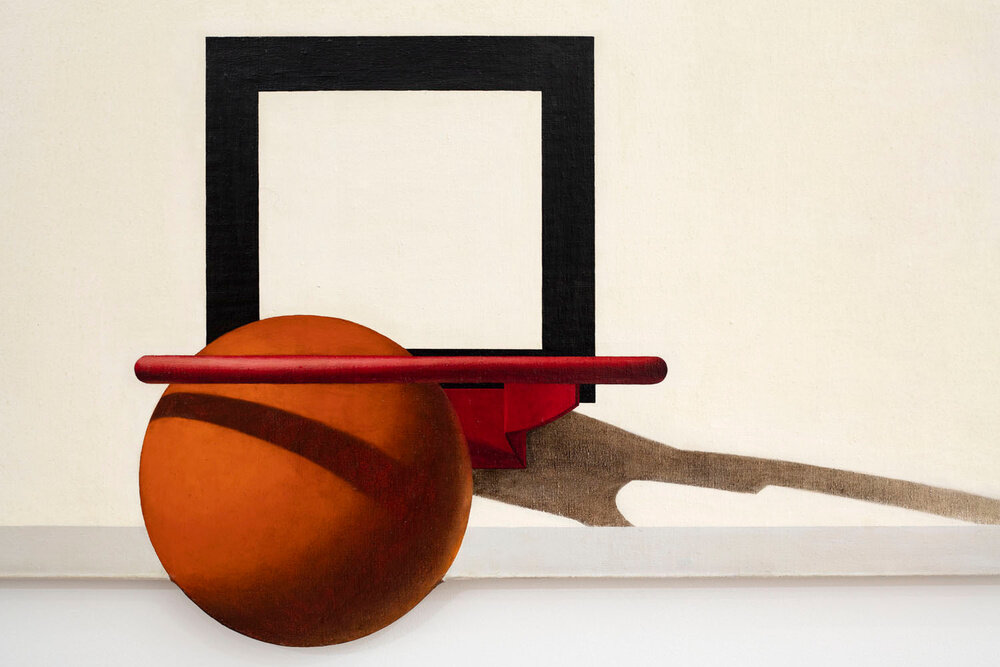 The street balls rarely had distinguishing lines on them to say, "I'm a basketball." When the large orange ball was launched from the shooter's hand, there would follow a confident cry of "Two!" which could often be heard in the next block. At times, which were many, the ball would hit the rim or backboard and soar in directions away from where the game was played. That was a call to shame the shooter, which was very much a part of the sport of "humiliation basketball," widely practiced on all the courts in all the neighborhoods I played on in Philadelphia…
– Barkley L. Hendricks, "Palette Scrapings"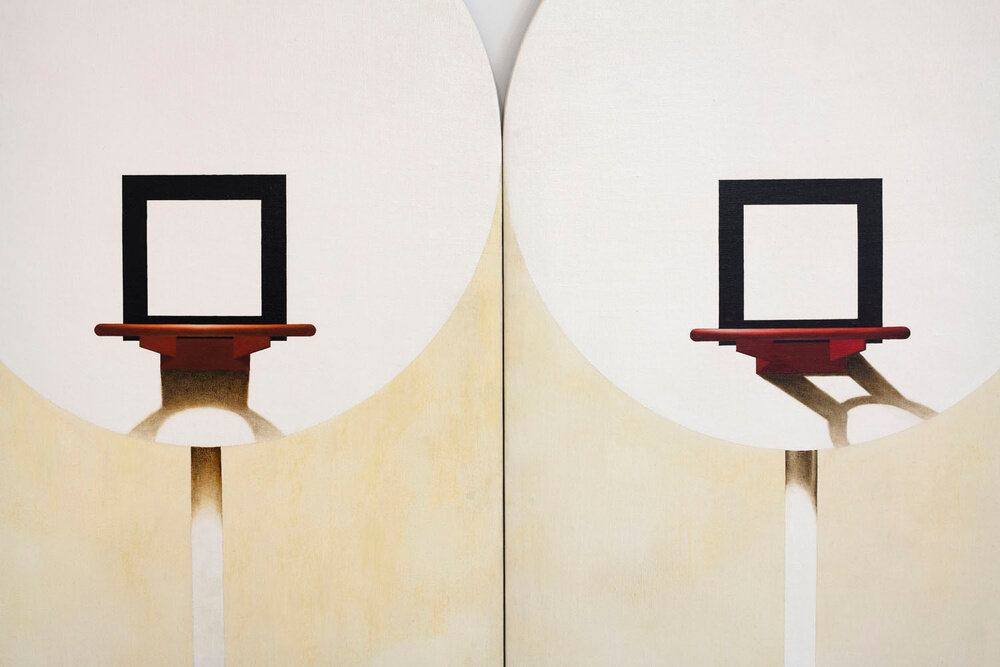 In the case of a painting like Father, Son, and … (1969) that has as much potential to be interpreted as allegorical and/or spiritual as any of Hendrick's most iconic portraits, its unusual otherworldliness is substantiated if not sublimated by the sensuality of the paint on its surface…

-Terry R. Myers, "Man to Man in the Zone"
It may be that a particularly unusual Basketball Painting, I Want to Take You Higher (1970), is best understood as a commentary by Hendricks on the abstract shaped painting of the period: bright red, with a black and green border (the colors of the Black Liberation Flag), it reads as an exaggerated distortion of the rectangles and circles of a basketball court, if not other highly suggestive forms.
– Terry R. Myers, "Man to Man in the Zone"
While I was at Yale, one of the professors remarked about my basketball images having a Josef Albers influence. I had to be very honest with my ignorance concerning my lack of knowledge about Mr. Albers's art and color theories.

– Barkley L. Hendricks, "Palette Scrapings"
Besides the game that provided color and geometry for many of my compositions, there were the playground regulars who always provided attention-getting behavior besides their faces, fashions, and attitudes.

– Barkley L. Hendricks, "Palette Scrapings"