Jack Shainman Gallery: Truth Be Told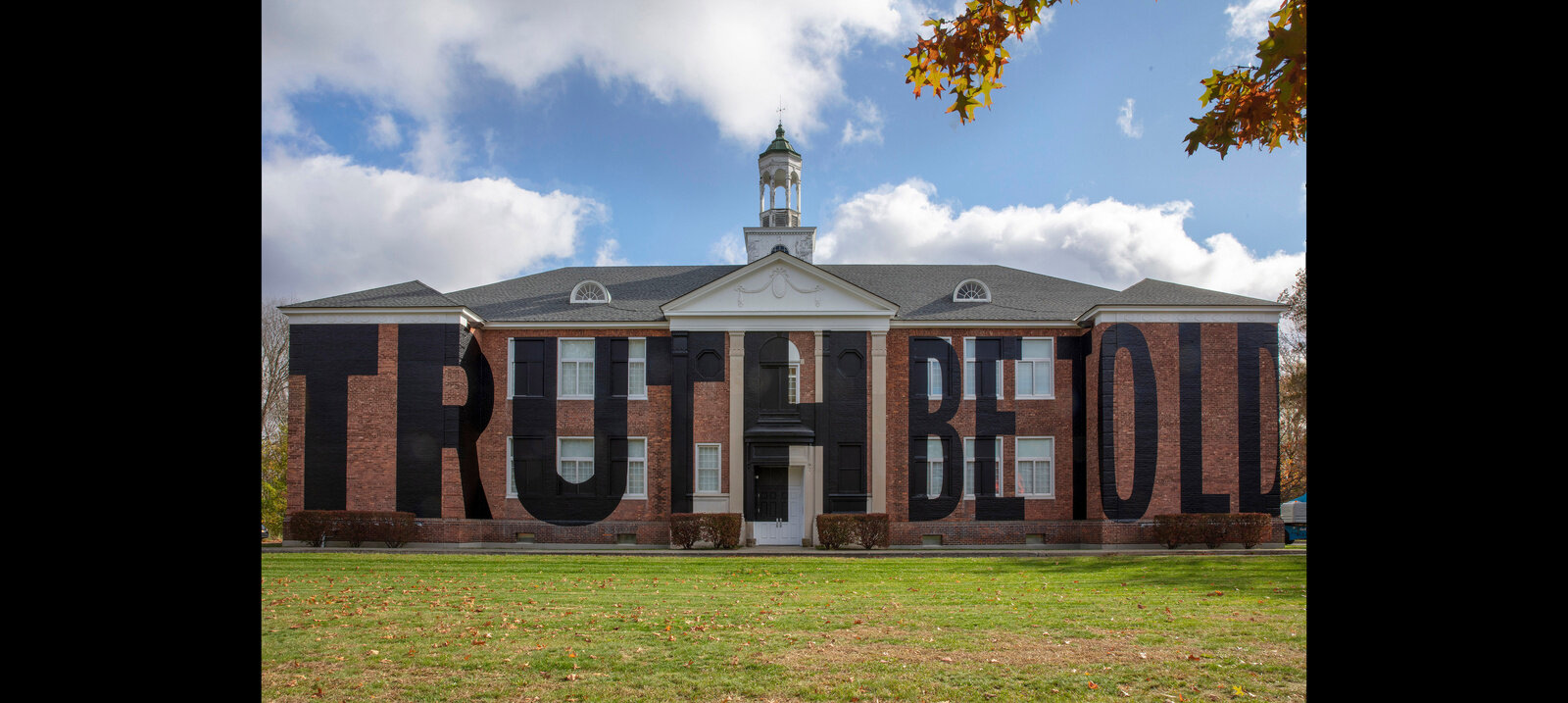 Jack Shainman Gallery: Truth Be Told

September 8, 2020, Nick Cave unveiled a public, large-scale artwork, Truth Be Told, at The School | Jack Shainman Gallery in Kinderhook, NY. Timed to the United States presidential election, the work comprises the words "Truth Be Told" spread across the façade of the building in monumental letters twenty-five feet high. The statement is a pointed antidote to a presidency known for propaganda that disguises truth and history to present racist and nativist ideology as patriotism. It is also open-ended, intended to spark questions surrounding personal interpretations of truth and integrity. Truth Be Told stands as an act of protest, acknowledging the power of words as symbols and organizing forces.

"We are living in a moment when the distinctions between fact and fiction are often blurred," said gallery founder Jack Shainman. "This work speaks to those concerns at an especially timely moment for our nation's future, and while the words themselves may be simple, the message it delivers is anything but. I am proud that just as it was when it first opened, The School continues to be a place of learning, and perhaps today, of reckoning."

This installation is the latest project featured as a part of Jack Shainman Gallery's States of Being, an initiative dedicated to social justice advocacy through art. The platform is an evolving program of interventions, happenings, artworks and community outreach as well as recommended titles exploring the intersections of art and social justice, in partnership with The Lit. Bar. While States of Being also serves as a place to spotlight the gallery's artist-led activations and amplify their voices, it is an opportunity for the gallery to collaborate with creators and voices beyond their immediate roster, fostering both local and national conversations around art as a vehicle for civil engagement.

Cave's work HeavyWait (2020) is also on view as part of States of Being. The gallery's 20th Street window in Chelsea reads "8m46s," in reference to the murder of George Floyd by Minneapolis police officers on May 25. Additionally, A·mal·gam, a new group of bronze Soundsuits created in response to public statues that reinforce and perpetuate white supremacy, will be presented as the third work in this series.

States of Being projects, actions and events will continue to be announced as they develop in partnership with artists, organizations and community members.

Gallery hours are Tuesday through Saturday from 10 am to 6 pm. Jack Shainman Gallery | The School is open by appointment and the façade installation is visible to the public. For press inquiries please contact Kate Morais, Sutton, kate@suttoncomms.com, +1 212 202 3402. For other inquiries please contact the gallery at info@jackshainman.com.