The Invocation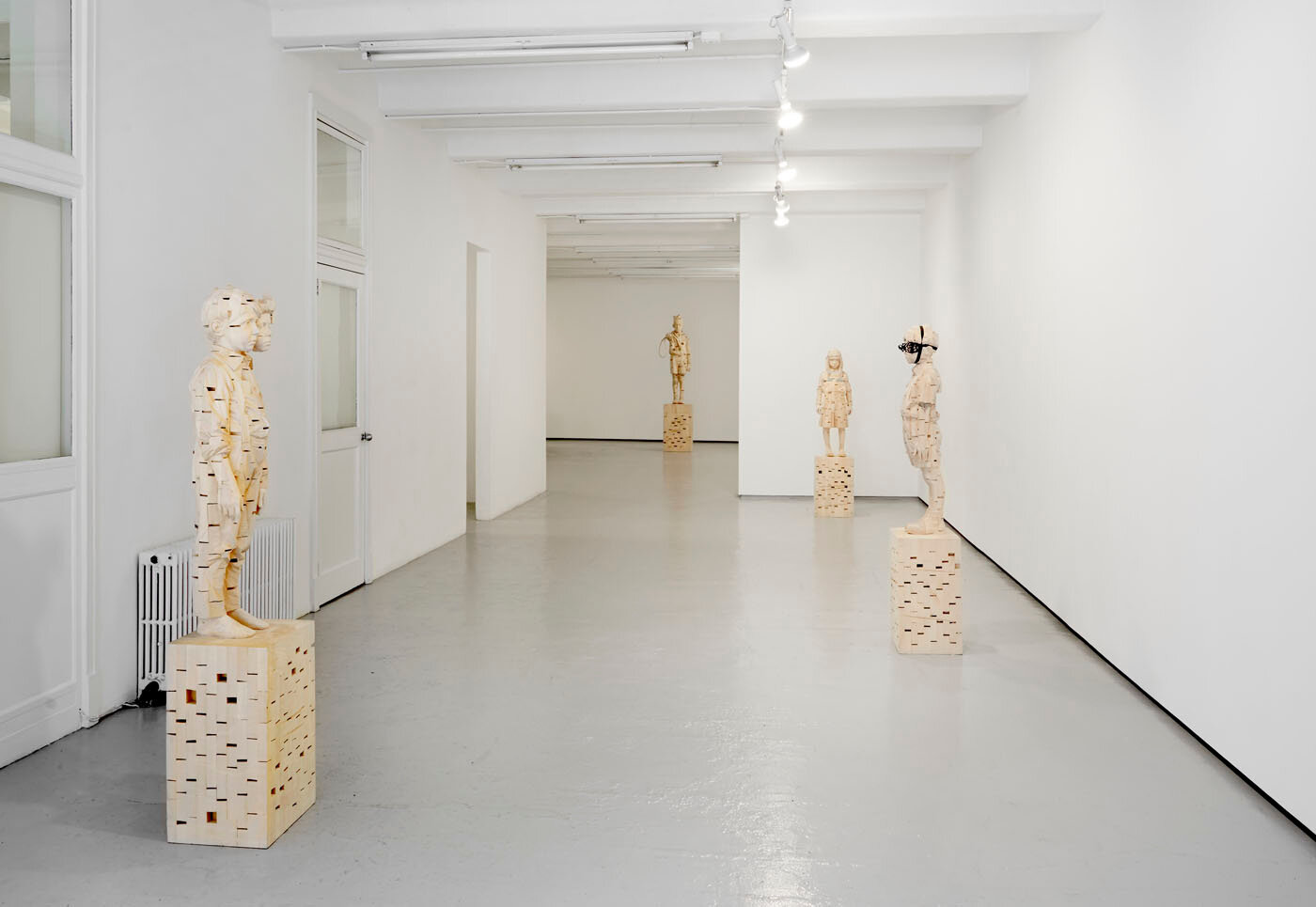 1/13

2/13

3/13

4/13

5/13

6/13

7/13

8/13

9/13

10/13

11/13

12/13

13/13
Dates
May 01 – May 31, 2014
Location
513 West 20th Street New York, NY 10011
Press Release
GEHARD DEMETZ
The Invocation
May 1 – 31, 2014
Opening reception: Thursday, May 1st, from 6 – 8 PM at 513 West 20th Street.
Jack Shainman Gallery is pleased to announce, The Invocation, a solo exhibition of new sculptures by Gehard Demetz.
In his second exhibition with the gallery, Demetz continues his exploration of contemporary issues through the traditional practice of woodcarving. With impeccable craftsmanship, Demetz builds figures and reliefs of children and rural, often religious, architectural forms. While his subjects often take the forms of adolescent or very young children who are at the precipice of self-realization, their grave expressions and powerful stances suggest something much less innocent than their ages might suggest. Situated on plinths, these life-size works are elevated above their natural stature, allowing them to confront adults at eye level with a fierce or introspective gaze far beyond their years. Rather than being carved from a single large block of wood, these sculptures are built up from smaller rectangular units–mimicking classic building blocks–with gaps in their structures like pieces missing from their bodies or lost fragments of their being. In The siblings in me, 2014, a second, mask-like younger face grows from the figure, and underscores the tenuous and short-lived moment in childhood when one is not wholly a child, but not yet an adult.
Each figurative sculpture incorporates the intervention of an object, body modification, or item of clothing that reveals a fragment of a story only known by the child. These punctuations, like the sullied eyes of I love apple jam, 2014 and Mother's Darling, 2014, or the hand saw and binding fabric of Mom's Hands and Daddy's Nose, 2013, excavate and manifest an inner emotional state, often bordering on the profane. As Kristen Nordhal writes in Contenitore (2011), "Demetz endows his figures with a critical mind of their own. These children seem to take responsibility for their parents' and ancestors' actions and the intrigues of other adults. And yet they keep a critical distance to it all... They demand respect." The sculptures infuse playfulness with notes of malice and peaceful contemplation, and require their introspection to be reciprocated by viewers.
Gehard Demetz lives and works in his native Italy. Recent solo exhibitions include Gehard Demetz: Echo Eines Kniefalls at the Kunsteverin Recklinghausen, Germany, 2013, and Mutterland, l'età estranea, Fondazione Mimmo Rotella, Italy, 2011. Selected group exhibitions include +50 Sculture in Città: Tra Memoria (1962) e present (2012), Palazzo Collicola, Italy, 2012 and Panorama: Arte nuova in Alto Adige, Forte di Fortezza, Italy, 2012. Demetz was a recipient of the Richard Agreiter Sculpture Prize in 2007.
Concurrently on view at 524 West 24th Street is Toyin Odutola: Like the Sea from May 1st through May 31st.
Upcoming exhibitions at the gallery during June and July include Pierre Dorion at 524 West 24th Street, a group show, The Shape of Things, at 513 West 20th Street, and Nick Cave, presenting the inaugural exhibition at The School, the gallery's newest space in Kinderhook, New York. This exhibition will travel to both Chelsea locations in September.
Gallery hours are Tuesday through Saturday from 10am to 6pm. For additional information and photographic material please contact the gallery at info@jackshainman.com.
......................

GEHARD DEMETZ/THE INVOCATION /May 1 – May 31, 2014