Pot Of Wisdom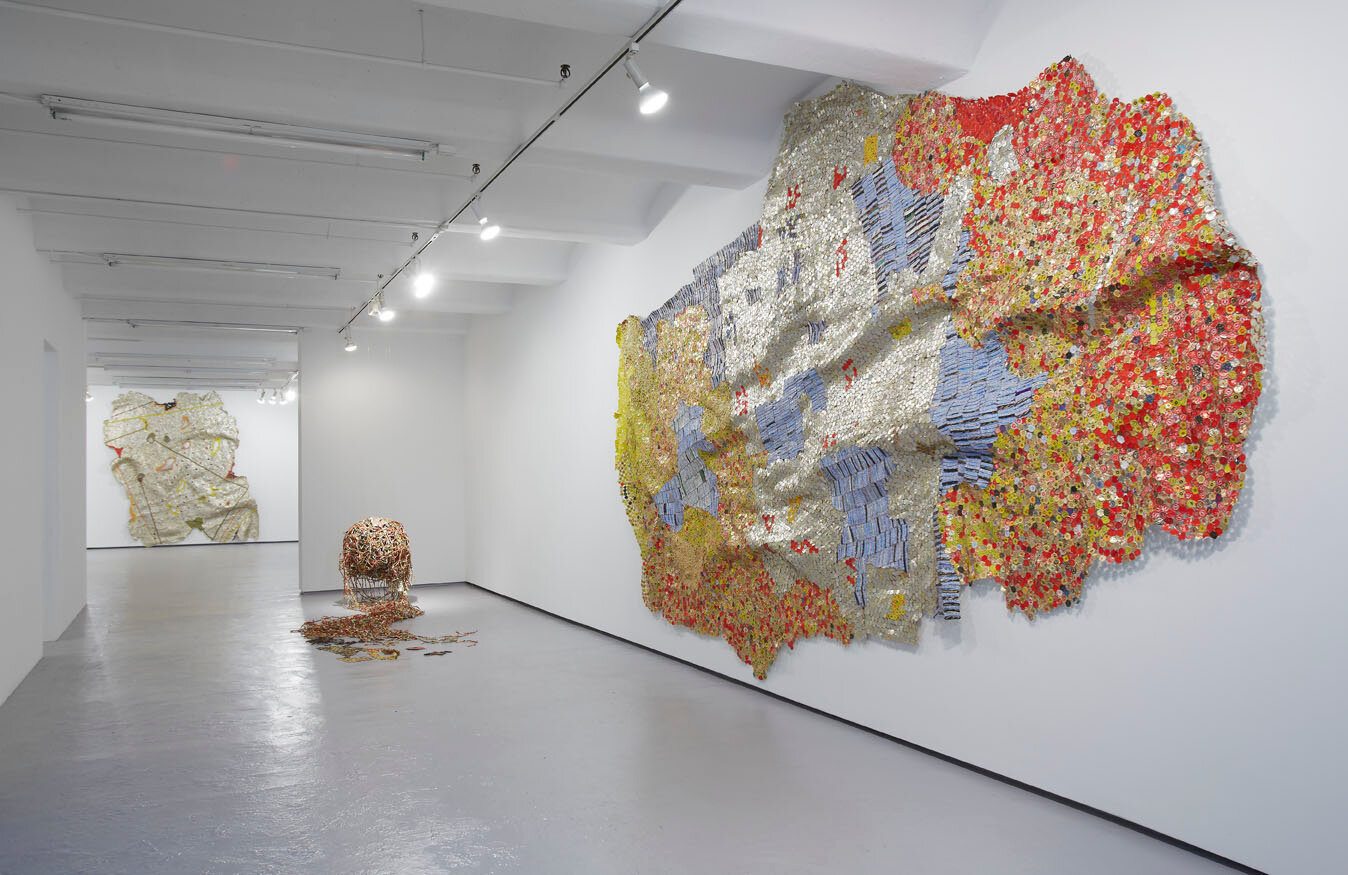 1/19

2/19

3/19

4/19

5/19

6/19

7/19

8/19

9/19

10/19

11/19

12/19

13/19

14/19

15/19

16/19

17/19

18/19

19/19
Dates
Dec 14, 2012 – Jan 19, 2013
Location
513 West 20th Street New York, NY 10011
Press Release
EL ANATSUI

December 14, 2012 – January 19, 2013
Pot of Wisdom
December 14, 2012 – January 19, 2013
Opening reception for the exhibition: Friday, December 14, from 6 – 8 PM
Jack Shainman Gallery is pleased to announce Pot of Wisdom, El Anatsui's third solo exhibition with the gallery. Continuing with his use of found metals and copper wire, this body of work explores new formal approaches to color, composition and line.
The works in this exhibition are fresh and unexpected while remaining true to the practice Anatsui has mastered over decades, creating sculpture that defies categorization. In doing so, Anatsui has created a lexicon all his own. Every unit becomes a morpheme, folded, shaped and joined together within Anatsui's visual dialogue with art history, tradition and the future of sculpture.
Relying on expansion and contraction, each piece reveals a tension that has become emblematic of Anatsui's oeuvre. At first glance Basin, 2012, resembles a cast net, loose and airy. This impression quickly evaporates, leaving a weighty tension captured within the twists of copper wire and the creases in metal, which is primarily sourced from recycled liquor bottles. The duality of the micro and the macro, the maximal and the minimal, is a conceptual approach embedded in Anatsui's practice. They Finally Broke the Pot of Wisdom, 2011, is a grandiose movement. The fluidity of form is consistently mitigated by fierce abstraction and caustic critiques with ecological and humanist concerns. Uwa, 2012, is rolled and wrapped, a spherical articulation that is either unraveling with a long trail of lacy detritus or frozen in the mid-course of creation.
Each of the works functions as a solitary plane mapped with lines and borders that sometimes cut through with sharp determination and other times dance along the perimeter. The wall-bounded surface is pushed and draped, changing every time the work is installed, which Anatsui encourages. He audaciously trusts chance, allowing the work to exist on its own terms and to continue to morph into the unexpected. Ultimately, Anatsui's work combines narrative, concept and physicality into infinite arrangements, like a melody that never plays the same twice.
Anatsui's Broken Bridge II, his largest outdoor installation to date, commissioned by High Line Art and presented by Friends of the High Line, is currently on view on a wall next to the High Line, between West 21st and West 22nd Streets, and will be visible from the park and the street below it. The installation will remain on view for one year.
El Anatsui was born in Ghana and currently lives and works between Ghana and Nigeria. Upcoming solo exhibitions include Gravity and Grace: Monumental Works by El Anatsui, at the Brooklyn Museum, New York, February 8 – August 4, 2013. This exhibition was organized and previously on view at the Akron Art Museum, Akron, Ohio, and will travel to the Bass Museum of Art in Miami, Florida, and the Des Moines Art Center in Iowa. Anatsui's touring exhibition El Anatsui: When I Last Wrote To You About Africa, organized by the Museum of African Art, is currently on view at the Denver Art Museum in Colorado through January 6 and will travel next to the University of Michigan Museum of Art, opening February 2.
Anatsui is included in numerous private and public collections including the Metropolitan Museum of Art, New York; the Museum of Modern Art, New York; Centre Pompidou, Paris, France; Los Angeles County Museum of Art, California; the Bill and Melinda Gates Foundation, Washington; the Akron Art Museum, Ohio; St. Louis Art Museum, Missouri; Museum Kunstpalast, Dusseldorf; the Setagaya Museum, Tokyo, and the British Museum, London, England.
Upcoming exhibitions at the gallery include Zwelethu Mthethwa, opening January 24, 2012, and remaining on view until February 23, 2013.
Gallery hours are Tuesday through Saturday from 10 am to 6 pm. The gallery will be open by appointment from December 24, 2012 through January 2, 2013. For additional information and photographic material please contact the gallery at info@jackshainman.com.