Fusion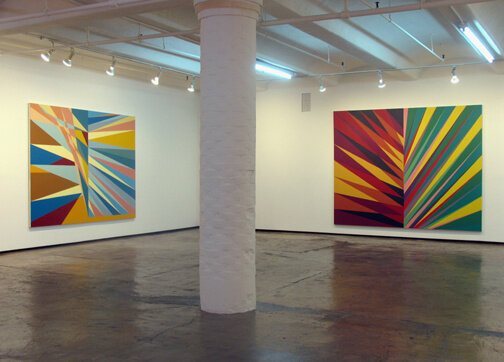 1/2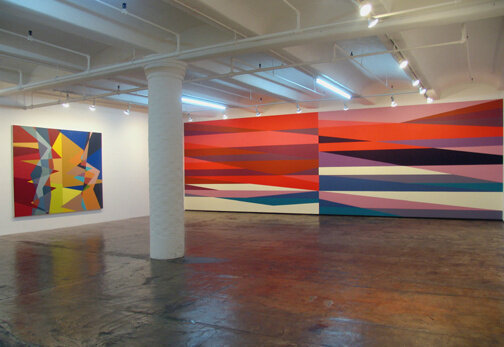 2/2
Dates
Nov 17 – Dec 22, 2006
Location
513 West 20th Street New York, NY 10011
Press Release
ODILI DONALD ODITA
Fusion
November 17 – December 22, 2006
Opening Reception: Friday, November 17, 2006, 6-8 pm
In his first one-person exhibition titled, Fusion, at the Jack Shainman Gallery, Odili Donald Odita addresses a newfound complexity.Recent canvas paintings and wall paintings bridge many distinctive visual parts into a multi-faceted whole, while exploring color in all its multitudinal permutations.Within the context of installation, Odita continues his primary investigation of color through what the artist calls a 'third space.'The painting that gives the exhibition its title, "Fusion" makes its case evident.This painting, like a stitched or quilted textile, is a weaving of two different spaces, of two different times and temperaments brought together along a single vertical line made by the abutment of these two patterned fields.This invisible vertical line becomes the fissure that separates as it conjoins – a flash point where two vibrant color fields become one.
For Odita, color in itself has the possibility of mirroring the complexity of the world as much as it has the potential for being distinct.In his large-scale paintings we see color interwoven and mixed, becoming an active agent in representing the essential power that light has in identifying the entirety of our world.To quote the artist directly from his statements on color:
"What is most interesting to me is a fusion between cultures where things that seem faraway and disparate have the ability to function within an almost seamless flow. The fusion I seek is one that can represent a type of living within a world of difference.No matter the discord, I believe through art there is a way to weave the different parts into an existent whole, and where metaphorically, the notion of a common humanity can be understood as a real choice."
Odili Donald Odita was born in Enugu Nigeria and lives and works in Philadelphia and New York.Odita is currently an Associate Professor of Painting at Tyler School of Art, Temple University in Philadelphia, and from 2003-2005 he was a Visiting Critic in Painting at Yale University School of Art.
In the past ten years Odita has exhibited extensively at some of the most important venues in the world.Odita currently has work on view in the traveling exhibition, "A Fiction of Authenticity," which inaugurated the newly designed Contemporary Art Museum in St. Louis.Recently, his work was featured in "Big Juicy Paintings and More: Highlights from the Permanent Collection", Miami Art Museum, Miami, FL, "Ordering and Seduction," curated by Dorothea Strauss at the Haus Konstruktiv, Zurich, "The Shape of Colour: Excursions in Colour Field Art, 1950 – 2005," curated by David Moos at the Art Gallery of Ontario, "Surface Charge," curated by Gregory Volk and Sabine Russ at the Anderson Gallery, Virginia Commonwealth University. In 2004, Odita represented North America at DAK'ART, the Dakar Biennale of Contemporary African Art.
Gallery hours are Tuesday – Saturday from 10 am to 6 pm. For additional information and photographic material please contact the gallery at info@jackshainman.com.