All Manner Of Needs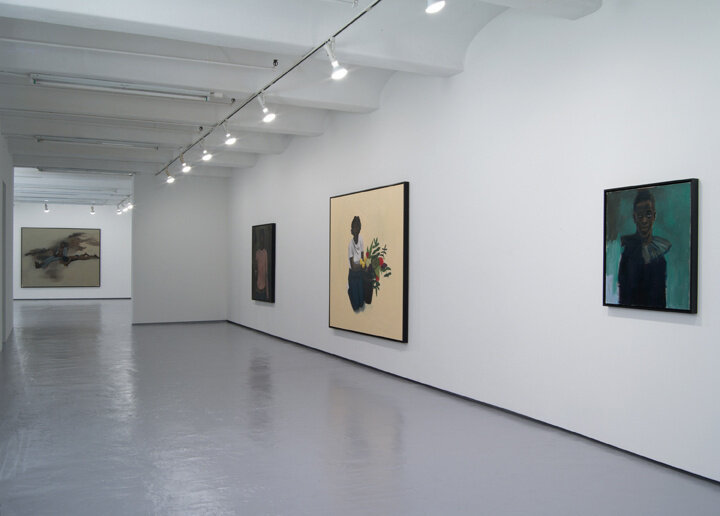 1/11

2/11

3/11

4/11

5/11

6/11

7/11

8/11

9/11

10/11

11/11
Dates
Sep 13 – Oct 13, 2012
Location
513 West 20th Street New York, NY 10011
Press Release
LYNETTE YIADOM-BOAKYE
All Manner of Needs
September 13 – October 13, 2012
Opening reception for the artist: Friday, September 14th, from 6 – 8 PM

Jack Shainman Gallery is pleased to announce Lynette Yiadom-Boakye's second solo exhibition with the gallery. The show includes new paintings that continue the artist's exploration of fictional subjects who inhabit a world purposefully left open to the projected associations and inferences of the viewer. These scenes are often still, stripped down to a single action in an unidentifiable space, and built around glimpses and subtle gestures.
Yiadom-Boakye's works are deliberations on painting. Urgent brushstrokes coexist with smooth overtures. Scale shifts, with works ranging from large full-length paintings to diminutive, fiercely intimate portraits. Color is its own subject, ranging from careful punctuation, such as in Bracken or Moss, 2012, where a man composed of darkness faces the viewer with just a hint of fiery reds outlining his neck and shoulders, to broad gestures, such as Metatarsal, 2012, where two dancers stretch in a swath of green.
In addition to new paintings, Yiadom-Boakye will show a series of hard ground etchings which together comprise one work. This is the first group of etchings that the artist has exhibited, although she has used this medium as a study in the past. Existing independently from the paintings, this labor intensive work, with its stripped down monochromatic black ink, is considerably more about line and process, complementing the immediacy of the paintings.
Lynette Yiadom-Boakye (born 1977, London, UK) is an artist of Ghanaian descent based in London. Yiadom-Boakye attended Central Saint Martins College of Art and Design, Falmouth College of Arts and the Royal Academy Schools.
She has had several important solo museum shows, most recently at Chisenhale Gallery, London, 2012 and the Studio Museum in Harlem, New York, 2011. She has also been included in many group exhibitions including The Ungovernables: 2012 New Museum Triennial, New Museum, New York, 2012; 11th Lyon Biennial of Contemporary Art, Lyon, France, 2012; and the 7th Gwangju Biennale 2008, Gwangju, South Korea, 2008. She will be included in The Progress of Love at the Menil Foundation, Houston, in fall 2012.
She is included in many institutional collections including the Tate, London; the British Council, London; the Victoria and Albert Museum, London; the Miami Art Museum, Florida; the Studio Museum in Harlem, New York; the Arts Council Collection, London; the CCA Andratx Collection, Mallorca; and the Nasher Museum of Art, North Carolina.

Upcoming exhibitions at the gallery include Hank Willis Thomas opening October 18th, on view through November 17th, 2012.
Gallery hours are Tuesday through Saturday from 10 am to 6 pm. For additional information and photographic material please contact the gallery at info@jackshainman.com.